One of the world's leading social media platform WhatsApp has launched live location sharing feature today to make the Facebook-owned application more lucrative. WhatsApp already comes with the location sharing feature, but that is static and one-time shareable. But the latest feature allows the users to share live location which is dynamic and updates the user's  current location constantly, in real time, irrespective of WhatsApp running on the fore or in the background.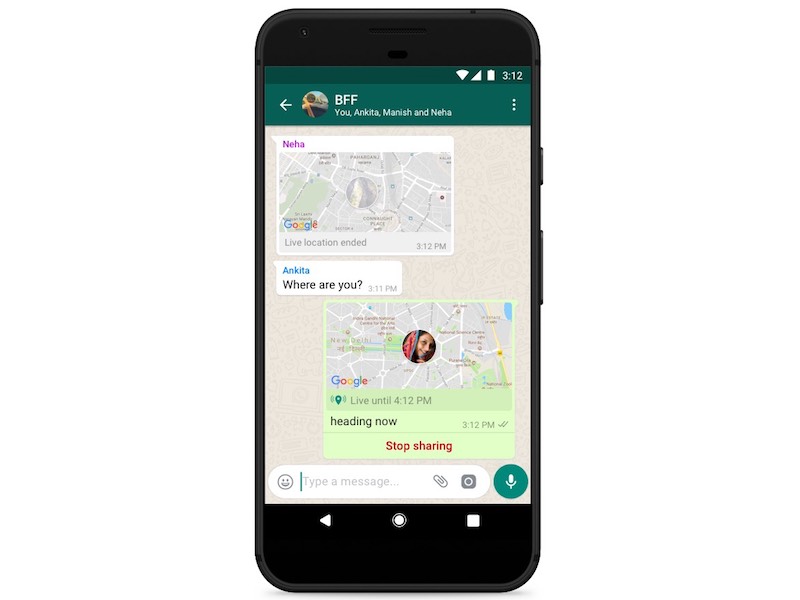 So now the question is how does the live location feature in WhatsApp work? Just like the current version, to send your location you have to click on the Attach icon if you are an Android user or the Plus icon if you are an iPhone user. Now you have to choose the duration of time for which the instant messaging application will send your current location. There are three preset options available in the application to select-fifteen minutes, one hour (default), and eight hours.  Moreover, you can also attach a comment if you like and can stop sharing the live location at any given time. You can also share the static, one-time location if you want.
From the receiver's end, the live location sharing will show up within the WhatsApp chats as thumbnails with the initial location of the sender and the 'Live until' time. If you click on the 'View live location' option it will redirect to a map view where you can watch the current location of all the users who have shared their live location in the chat currently. You can also switch to a Terrain/Satellite view if you wish. You can also see the live traffic as an overlay, which is also a great option.
The Product Manager of WhatsApp, Zafir Khan commented, "Live location is a way to share your location in a chat and the participants in that chat will then be able to see your real-time location as it updates on a map. [It's] short-term in nature, it's limited in duration." Later he also added, "We hope that it provides utility in those scenarios where people are coordinating and meeting up in the real world. We give users control so they can stop sharing at any time and sharing a live location is just as secure as sending any other communications over WhatsApp in that it is end-to-end encrypted,"