Facebook, which is the world's largest social networking giant, is planning to introduce a new security feature in case it notices any suspicious activity occurring on any account. Once certain activities have flagged the 'suspicious' flag, the user will be blocked from his/her/their account. Only after the user has uploaded a photo will the company automatically scan whether the photo is legitimate or not. Depending on that test, the profile will then be unlocked.
The picture will be permanently deleted from the servers to pre-empt any security concerns. Since Facebook is a private company, there were initially some concerns about how well it would preserve the secrecy and privacy of its users. This is not the first time that the company has laid so much emphasis on the profile picture: it had earlier launched a profile picture guard for Indian users.
Facebook may ask for your profile picture in case it notices any suspicious activities, in case you decide to send someone a friend request, or when opening an account. It might also be required in case you yourself find anything wrong with your account, in which case you can also lodge a complaint on Facebook.com/hacked.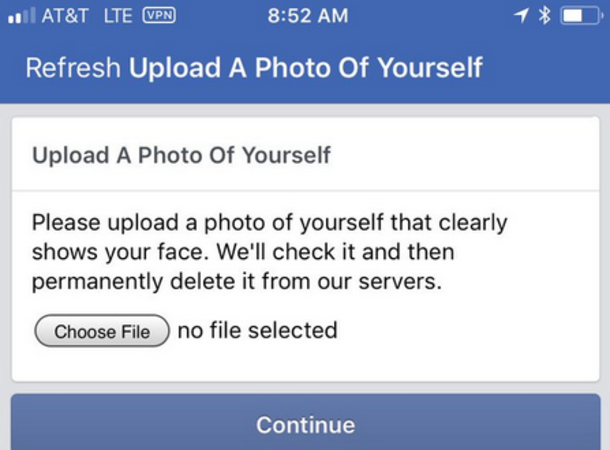 The pictures will be identified for it uniqueness both manually as well as automatically. It will then be decided if the access to the profile is unlocked or not. In case Facebook notices any discrepancies, it will warn you with the following message: "You Can't Log In Right Now. We'll get in touch with you after we've reviewed your photo. You'll now be logged out of Facebook as a security precaution."
The news comes to us via Wired magazine. While the privacy concerns are valid as of now, it remains to be seen if the company does anything to the system in place. Sometimes, the old methods are the best.