The Samsung Galaxy S8 has received a new color scheme. Christened the Samsung Galaxy S8, the new color is Burgundy Red and it was launched earlier this month, as we had reported then. However, at that time, there had been no mention of when the new device would launch. Well, we now know that the Burgundy Red variant will be made available in South Korea from today i.e 28 November.
The Samsung Galaxy S8, Samsung's flagship offering this year, now has six color options: apart from Burgundy Red, we have Rose Pink, Arctic Silver, and Coral Blue, as well as Orchid Gray and Midnight Black.
Given that the device is available, for now, only in the home country of Korea, we expect that the device will soon launch elsewhere in the country. Exactly when that will be is something that we cannot confirm now.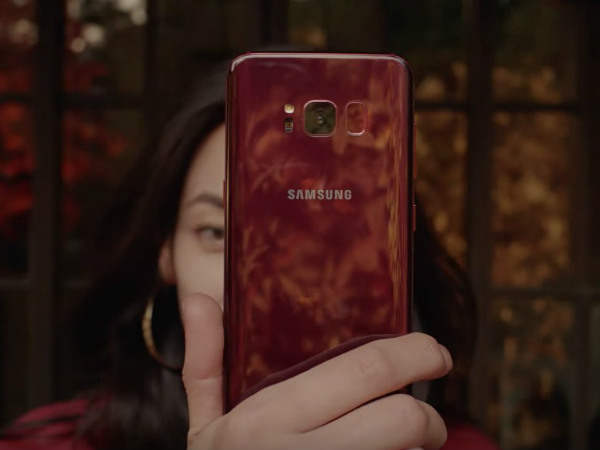 Samsung had recently released an official ad for its new color variant. The ad was released on the Samsung Mobile Korea YouTube channel. Featuring bright autumn themes, the new Burgundy Red variant of the Galaxy S8 is believed to have been launched in commemoration of the onset of autumn. Besides the beautifully rich red color on the rear, the other specs and features are expected to stay the same.
Samsung Galaxy S8 Burgundy Red Specs and Features
The Samsung Galaxy S8 has a 5.8-inch Quad HD Infinity display which has a display resolution of 2960 x 1440 pixels. For seamless viewing, the display has been curved on both the sides. Onboard is a display aspect ratio of 18:9, which is good as far as seamless viewing of widescreen movies is concerned.
The in-house developed Exynos 8895 chipset is an Octa-Core processor which has been clocked at 2.3 GHz (in Korea). Besides, the same device also has a decent 4GB of RAM as well as 64GB of internal/native storage, the latter of which can be expanded to up to 256GB via a microSD slot. The device also boasts dual rear cameras and has a pretty decent 3,000 mAh battery. The device weighs a mere 155 gms.