It seems that as far as the next-generation Samsung Galaxy is concerned, the South Korean tech giant is leaving no stone unturned. We had previously reported how the Samsung Galaxy S9 series would be the first devices to house the Snapdragon 845 SoC. There have also been rumors that the device may skirt the 3,5mm headphone jack, in sync with the latest trends in the market. Now, the same device has been spotted on Geekbench, running on the latest Android Oreo 8.0 OS.
Incidentally, the Galaxy S9 could have a code name/number of SM-G90F, although we cannot be absolutely certain about that.
The listing on Geekbench, as revealed by The Mobile Indian, has shown off the spec and the performances of the devices. The upcoming smartphone has scored 2680 points in the single-core test, while the multi-core test has fetched 7787 points. The listing has also mentioned one other important fact: that the device will come pre-loaded with the latest Android Oreo 8.0 OS.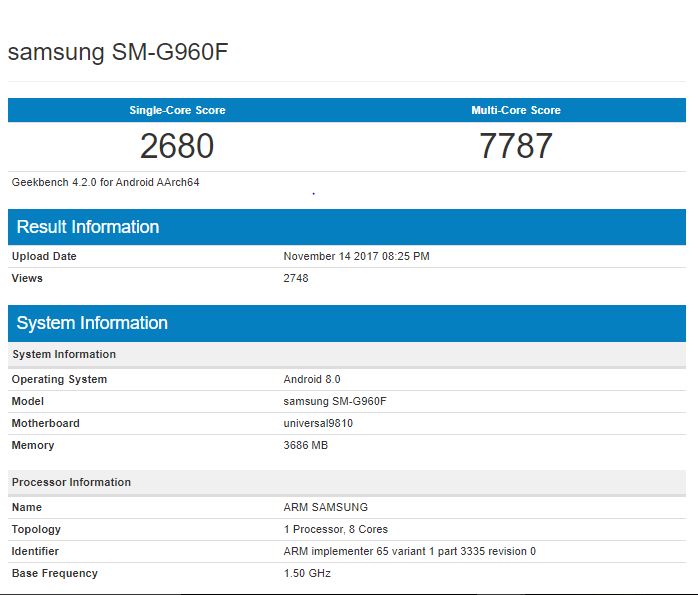 From what we saw, the Samsung Galaxy S9 seems to have 4GB of RAM, a strange fact considering that most of the comparable flagship smartphones seem to have 6GB of RAM. Also onboard will be the 1.50GHz octa-core processor, which could possibly be the in-house developed Samsung Exynos 9810, which will soon debut in its upcoming flagship devices. There have been multiple reports, however, that in the US market, this same smartphone may possibly bear the latest and the most powerful Qualcomm Snapdragon 845 processor. There have been reports that the Samsung flagship of the next generation will possibly have a launch ahead of the MWC 2018.
There have been multiple reports that indicate that Samsung may already be working on three different S9 series phones, one of which may include a smaller device called the S9 Mini. The S9 Mini may possibly have a screen perhaps smaller than 5 inches while a  curved edge infinity display is also rumored. Only time will tell if the reports are correct. A front-mounted fingerprint scanner is also expected.