Needless to say, Meizu has acquired enough fame with its lineup of smartphones. We have already put into words how the company was rumored to bring a smartphone: the alleged Meizu 15 Plus that was anticipated with its design features. Now, with this recent report, one may interestingly note that the same smartphone has again surfaced online with few other leaks, specifically its rear and front design.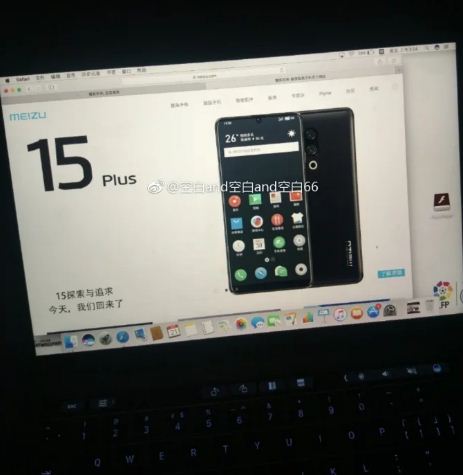 The aforementioned image of the "15 Plus" product name can be seen on the left side of the image. While the major portion of the front panel is equipped with the phone's display, the bottom bezel is seen slightly thicker than the other three sides. One can also see the selfie shooter present on the front at the top center of the device.
On contrary, the rear panel of Meizu 15 Plus consists of a vertically arranged dual camera module alongside a ring flash which is positioned right below the camera module. Although the leak is quite similar to some of the previous reports so far, the smartphone's branding happens to differ from the previous reports. Meizu's logo can be seen at the bottom-right of the rear panel, hence the authenticity of the leak is still questionable, as reported by GizmoChina.
The Meizu 15 Plus is special edition phone, which the company, after completing 15 years in this tech industry, is planning to celebrate the journey. Earlier we have seen how the company was reported to ditch the MediaTek chips in six of its upcoming 2018 smartphones. Hence, one may expect the Meizu 15 Plus to house the  Snapdragon 835.
One of the six smartphones that Meizu is planning to unveil is the Meizu m1712 which has a side-mounted fingerprint scanner, as reported in our earlier report. The device is expected to sport a 5.2-inch Full HD Super AMOLED display. For more news on this front, one may share this space with us.