Nokia's much-anticipated smartphones have not overstayed their welcome, it seems. Just a week earlier, we had reported how the company, whose rights and manufacturing details are held by HMD Global, was planning to launch the Nokia 3310 4G variant, which would twist the feature phone market quite a bit.
In April this year, HMD Global decided to bring back the Nokia 3310 in order to monetize the nostalgic value that the phone has. Now, the Nokia 3310 4G variant has been spotted on TENAA, indicating that a launch may not be too far away. This feature phone has also been certified by the FCC and also has received the Bluetooth SIG certification. Some pictures of the Nokia 3310 4G variant have also been released, showing off a slightly modified design philosophy.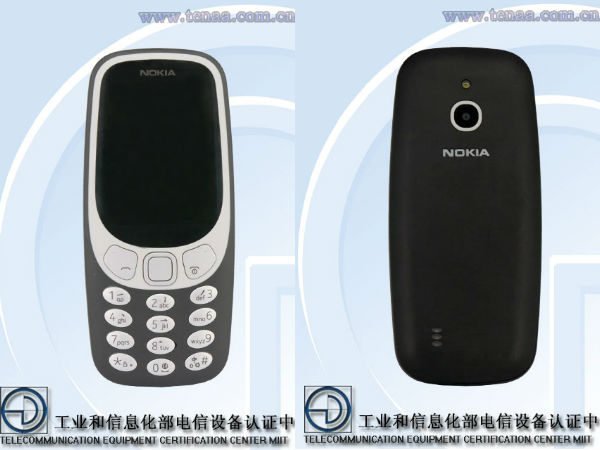 This model is slightly smaller when compared to the existing Nokia 3310 (2017) 3G model and is also slightly larger than the existing 2G model. It has more spacing between the keys to facilitate a better typing experience. The TENAA listing has also confirmed the support for all existing 4G LTE network while revealing that the device will probably run on the Alibaba's YunOS platform.
Given the fact that 2G networks are not used many countries, the Nokia 3310 3G was initially launched. Onboard this device are several Series 30+ OS supporting several social media apps including the most popular ones like Twitter, Facebook, and Skype.
Note that when the upgrade to 3G happened, it severely affected the battery life of the handset, rendering a mere 6.5 hours of talk time instead of the promised 22.1 hours of talk time on the existing 2G variant. The 4G variant may further nosedive the promised battery life.
As soon as the Nokia 3310 4G variant launches, we will let you know. The price tag will be on the higher side when compared to the 2G and 3G variants for obvious reasons.