It seems that the best was yet to unfold by the Schezwan based company, which a few days back was reported to roll out the Star Wars edition of the recently launched OnePlus 5T. Now, if the reports are to be taken into consideration, the same OnePlus 5T Star Wars Limited Edition has already debuted in the Indian markets exclusively with a price tag of Rs. 38,999.
Talking about this new OnePlus 5T handset, the Star Wars Limited Edition is packed with some great design language and as a matter of fact, it looks excellent on the aesthetics front. The event via which this device has been made official was held in Mumbai, which was already reported yesterday besides other livestreaming information.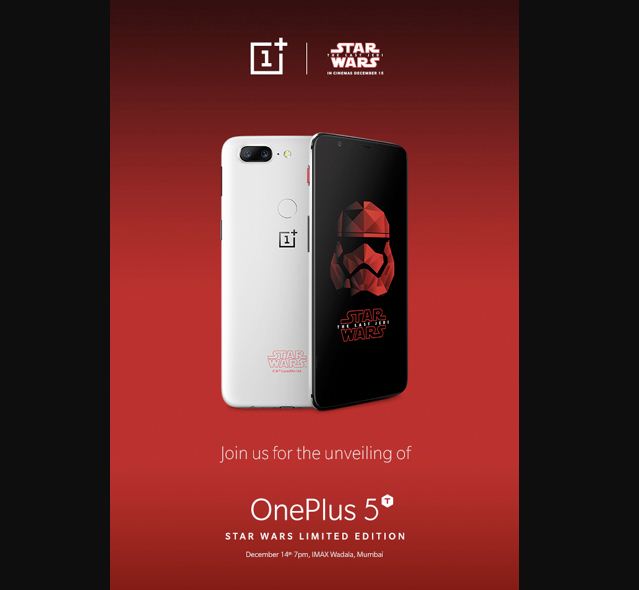 India Today reports that this OnePlus 5T Star Wars Limited Edition features a Star Wars logo on its rear panel that is seen surrounded by a red border. One can have the best look at the device which sports a white coated back cover aside from the fingerprint scanner embedded on the rear panel. The rear-mounted fingerprint reader comes in white ceramic color.
Coming to the film, the Star Wars – The Last Jedi has also seen the lights of release on the very same day when this exclusive Star Wars based OnePlus 5T device was launched. Featuring the film, there are the white salt plains of the mineral planet Crait, which OnePlus manufacturer has implemented on the device aesthetically., hence the device is in sandstone white color.
No major changes have been incorporated into the device, other than its design. The new OnePlus 5T Star Wars Limited Edition retains the black paint on the front display, which is quite similar to the traditional model of OnePlus 5T. For more information on the specification front, one may take a look at this report on the essentials of OnePlus 5T (when initially launched).