As we wait for the arrival of the Nokia 9, some new sketches of the Nokia 10 have now surfaced. Apparently, Nokia is really planning on naming its devices numerically as well as maintaining a healthy dose of photographic prowess. The sketches have revealed that the device may have a Penta-lens camera, or one with five lenses.
As the reader will know, the Nokia 9, which is a flagship model, will be launched this year, probably at the Mobile World Congress or MWC 2018 in Barcelona. We have a separate section on the MWC 2018. Also, HMD Global, which controls the rights to the Nokia brand, has also promised a big band this year. Now, some months ago, a noted tipster had stated that the Nokia 10 could surface in August this year with the latest Qualcomm Snapdragon  845 SoC. This latest news shows that it will have a Penta-lens camera onboard too.
This latest news comes to us via NokiaPowerUser, which you can access here. A "revolver-like camera module" has been spotted on the rear. Besides, an industry insider has also revealed that a recent ZEISS patent for a mobile-based multi-lens camera solution has been used here. This technology will boast an array of additional varying lenses which will all have different focal lengths and will all be mounted on a rotating lens base. Such an arrangement will thence be positioned between the normal fixed lens setup and the camera sensor.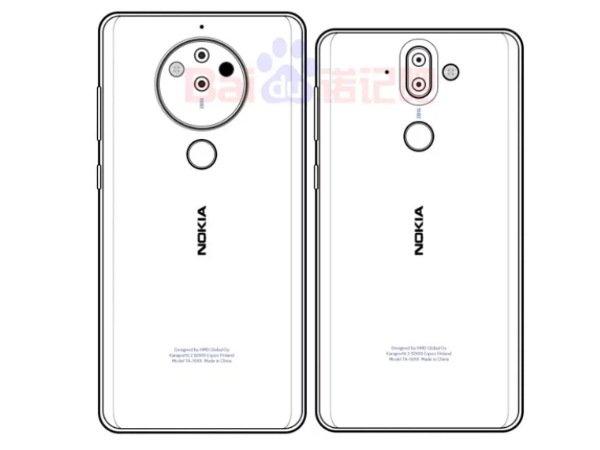 Some other details are also known now. The dual-lens camera will have the lens at the middle and will work as the primary camera; all the other lenses will be hidden inside of a module and may possibly be rotatable to modify the focal length. However, the other lenses will seemingly work along with the main camera. The new Nokia 10 sketch also shows an independently placed secondary camera which will sit on the top but the functionality remains unknown.
Also, the Nokia 10 may possibly be released at the IFA 2018 in Berlin, Germany, in September this year. So stay tuned.