Samsung, the South Korean giant, has been in the news not only for the phones it manufactures but also for its cutting-edge R&D prospects. Now, with the official announcement of the Samsung Exynos 9810 SoC, we will soon see a better kind of chipset by the company. These are some of the most powerful chipsets ever manufactured by the company and is being seen as a bid to remove Qualcomm from its globally dominant chair.
The Samsung Galaxy S9 ad the Galaxy S9+ are both set for launch this year, very soon as a matter of fact. incidentally, while there are reports that the new Qualcomm Snapdragon 845 SoC will power the devices, some of them will be powered by the Exynos 9810 chipsets too.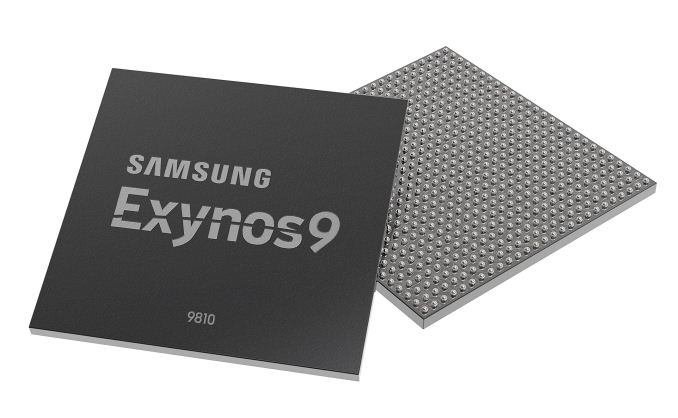 This is the next-generation Exynos 9 series chipset and is the second generation 10nm chipset designed for better and faster smartphones and smart devices. Onboard is the third-generation custom processor, a much more enhanced LTE modem which is capable of delivering faster gigabit connectivity speeds, topnotch image processing, and deeper artificial or neural learning capabilities.
The Exynos 9810 is basically an octa-core processor; it includes four third-generation custom cores besides a total of four cores optimized for delivering efficiency-based performances. This octa-core processor can also dole out a maximum clocking speed of an enormous 2.9 GHz. When compared to its immediate predecessor, the Exynos 9810 is at least twofold faster in the single-core performance while being 40 percent faster and more able in multi-core performance.
The Samsung Exynos 9810 also supports hybrid facial detection besides such standard security features like iris and fingerprint identification which will provide better security identification. Other features are also great: users can now shoot, stream, and broadcast content that can have up to 4K resolution besides categories like 360-degree video. The Cat.18 LTE modem supports a staggering maximum download speed of 1.2 Gbps and is also the industry Cat. 18 LTE modem that has the built-in support for 6x carrier aggregation for up to 1.2 Gbps download besides 200 Mbps upload speeds. Also onboard are 4×4 MIMIO and an advanced 256-Quadrature Amplitude Modulation scheme.
All devices which have the Exynos 9810 can now shoot extremely stable videos of up to 4K resolution, besides better and brighter photos in dim light conditions. Real-time out-of-focus photography will also be possible besides the active playback of 4K videos at 120fps. Expect the 9810 to be showcased at the CES 2018 between 9 and 12 January in Las Vegas.