Samsung has finally unveiled the Exynos 7872, its latest chipset meant for mid-range devices of 2018. The Exynos range of chipsets are manufactured in-house by Samsung and have been noted for their performances. This is the same chipset that we spotted recently on the Meizu M6S. Built on a 14nM process, the chipset promises to deliver greater performances with lower power consumption.
This latest chipset is part of the Exynos 5 series. It is built on the 14-nanometer process and is also based on the 14 LPP (an acronym of Low Power Plus) technology. Onboard is the hexa-core CPU (2x 2.0GHz + 4x 1.6GHz) working in tandem with the Mali G71 GPU. Incidentally, the Exynos 7872 was first unveiled in June of 2017.
This new entry is one of the decidedly mid-range chipsets and they also support the Category 7 of the LTE modem. The chipsets can thus reach a maximum downloading speed of around 300Mbps alongside an uploading speed of 150Mbps. These modems also have support for the existing 4G network with options for dual-band WiFi 802.11n and the latest Bluetooth 5.0.
These days, the full-screen display along with an aspect ratio of 18:9, is trending. It is no surprise, then, that the latest Samsung Exynos 7872 also has support for the Full HD+ display with a maximum screen resolution of a very neat 1920×1200 pixels. As far as the memory is concerned, onboard is LPDDR3 of RAM, alongside eMMC 5.1 for built-in storage and the SD 3.0 for expandable storage via the normally used microSD cards.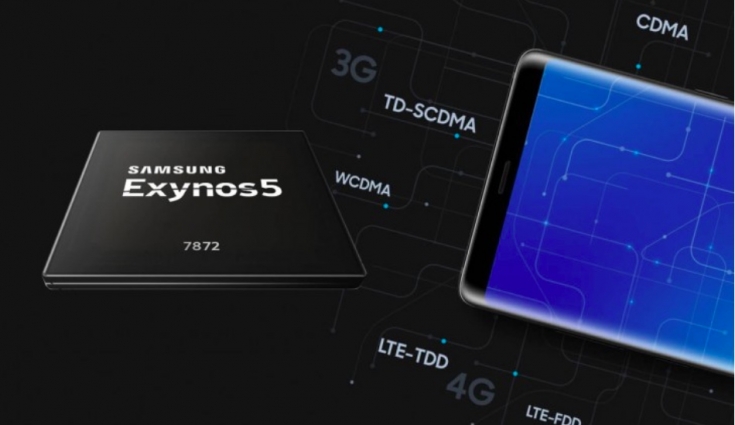 The Samsung Exynos 7872 will also boast improved Image Signal Processor (ISP) and Multi-Format Codec (MFC) which will make for better image and video quality. As far as imaging capacities are concerned, we are looking at support for a 21.7-megapixel sensor for both the rear and the front cameras.
Lastly, this new chipset will have support for an iris camera sensor with up to 8-megapixel for better security and authentication. One more thing: it also has MFC support for encoding and decoding HQ Full HD video at an astounding 120 frames per second.