Nextiva is among the top integrated communication companies in the country with a focus on solving common communication pain points for companies of all sizes. However, when CEO Tomas Gorny began facing his own communication challenges, he set out to create a holistic solution.
That solution became NextOS, the first technology on the market to aggregate all customer and employee communications in one place. With the launch of this industry-disrupting platform, Nextiva has emerged as a SaaS company paving a new path in business communications.
We spoke with Tomas Gorny to learn more.
Could you tell us about your background and how Nextiva came to be? 
I was born and raised in Poland and moved to Germany to attend business college. I'd always dreamed of moving to the United States and being an entrepreneur. When the opportunity presented itself in 1996, I dropped out just two months before graduation to move to California at 20 years old.
I arrived in Los Angeles with limited resources and joined a web-hosting startup specialized in communications. I helped the company grow to 40,000 customers and shepherded the company through a successful acquisition in 1998. 
After the acquisition, I profited financially and made some investments in other business ventures, but when those investments went south, I lost almost all of my money. 
Determined to succeed, I took the money I had left founded IPOWER in 2001 on my personal credit card. In 2007, I orchestrated a merger between IPOWER and a smaller competitor, Endurance International Group. In 2011, the company was sold for $1 billion and I remain on the board of directors. 
In 2008, I launched Nextiva out of the frustration I was feeling with available business communication companies. I co-founded Nextiva with the goals to revolutionize the phone service and communication options available to businesses, and to overhaul a 100-year-old industry.  
Now celebrating our 10th year in business, we've earned countless awards for leadership, customer service, company culture, and product effectiveness. We serve more than 150,000 business customers and have 1,000 employees, most of them out of our Scottsdale, Arizona headquarters.  
What are some of the business communication challenges you and other businesses are facing?
Some of the most challenging issues business face today revolve around the siloed, fragmented nature of business communications. For too long, companies have struggled with communicating internally and with their customers, relying on dozens of disconnected technologies for voice, live chat, analytics, surveys, and so on. This has led to confusion on a mass scale when it comes to communication, resulting in lost business. 
Nextiva decided to do something about this issue. We launched NextOS in May 2018, an all-in-one platform designed to streamline business communications. NextOS is transforming the world of business communications and its launch marks an important milestone in Nextiva's history. No longer is Nextiva just a VoIP company. We've now entered the world of integrated business communications for companies of all sizes and in all industries. 
What is NextOS and how will it benefit businesses? 
NextOS is an all-in-one communications platform designed to eliminate siloed technologies and improve the way businesses communicate, collaborate, and engage with their customers. No longer do business owners and their employees have to rely on messy, fragmented technologies to communicate with each other and external customers. NextOS is an easy-to-use platform that integrates several essential business functions, including CRM, surveys, chat, phone service, and analytics all on one screen. NextOS utilizes machine learning and artificial intelligence to give businesses a holistic view of each customer, making it a more intuitive platform than anything else on the market.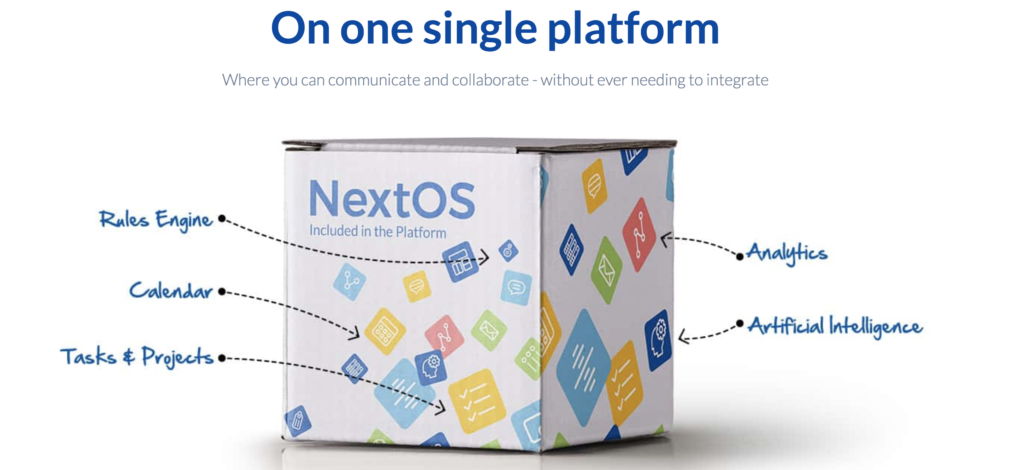 What are your plans for the future of Nextiva and NextOS? 
At last year's NextCon, I stood on stage and told the audience, "VoIP is to Nextiva as books are to Amazon; this is just the beginning." I stand by that statement. Nextiva, once a VoIP-only company, is moving into a new realm of integrated business communications. This is an exciting time, and we are thrilled to offer NextOS with its many capabilities. We plan to add even more functionalities to the platform with the goal of making the lives of our business users easier and more seamless.
Is there anything else you'd like to share?
In addition to Nextiva's incredible products, one of the things I'm most proud of is our team of employees. Ever since the early days, we've always had a vision of creating an inclusive, welcoming environment for employees where everyone is valued. We have not only achieved that vision with multiple "best places to work" awards, but we are working to perfect our company culture every single day. I am proud to stand by my team as we walk into a whole new and exciting phase at Nextiva. 
To learn more visit: https://www.nextiva.com/