Capcom, the developer of the popular game series Resident Evil, has revealed a special edition of its upcoming remake of Resident Evil 2 titled Resident Evil 2 Deluxe edition.  The special edition features a couple of special covers featuring the two protagonists of the game Leon S. Kennedy and Claire Redfield along with a bunch of downloadable content (DLC) which includes five costumes, a weapon and the original soundtrack that featured on the 1998 edition of the game.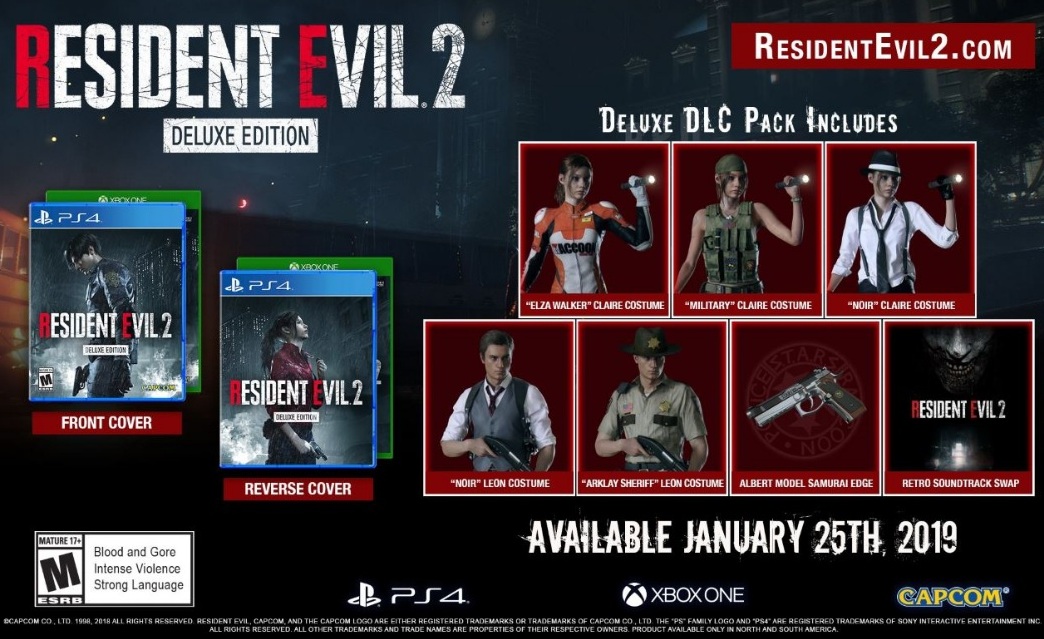 The full list of contents revealed by Capcom is listed here
Leon Costume: 'Arklay Sheriff'
Leon Costume: 'Noir'
Claire Costume: 'Military'
Claire Costume: 'Noir'
Claire Costume: 'Elza Walker'
Deluxe Weapon: 'Samurai Edge – Albert Model'
'Original Ver.' Soundtrack Swap
The Deluxe Edition of Resident Evil 2 is already up for preorders on Amazon, Best Buy and GameStop. It carries a price tag of $70 which is $10 more than the standard version. Information about the availability of the Deluxe Edition in India is not available at the current time. But since the official launch of the game is still months away, it is expected that some information about the availability in India will surface in the coming days. The standard and Collector's Edition of Resident Evil 2 is not available for preorder as of now.
Players who have no interest in the special covers of the Deluxe Edition can get the DLC benefits with the digital version of Resident Evil 2. The digital version is available at a much cheaper price of Rs 3,499 on PC via Steam, Rs 3,999 on PS4 via PlayStation Store and Rs 4,000 on Xbox One via Microsoft store.
The upcoming version of Resident Evil 2 is slated for release on January 25, 2019, on PC, PS4 and Xbox One. The game is set to arrive with enhancements for PS4 Pro and Xbox One X offering either 4K resolution or 60fps support.