To pursue your dream as a registered nurse you must take and pass NCLEX-RN exam, i.e., National Council Licensure Examination for registered nurses.  This exam provides certification to work as a nurse in any of the 50 states of U.S., four U.S. territories namely American Samoa, Guam, the Virgin Islands and Northern Mariana Islands. This exam tests the skills, abilities and knowledge of nurse for safe practice at entry level. The exam is conducted by NCSBN, i.e., National Council of State Boards of Nursing Inc. By the testing vendor, Pearson VUE. Candidates must undergo a CAT or computerized adaptive testing to prove his competence level.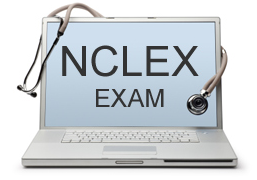 Levels of Exam
There is a 5 step process in this exam. Every question asked in this exam falls under one of the categories, i.e., assessment, planning, analysis, evaluation and intervention and implementation.
Topics covered in this exam:
There are following content that forms a part of the exam such as:
Physiological integrity: this section forms almost 43-67 percent of the questions of this exam. Questions of physiological integrity include topics such as:
Medical care and adult surgical.
Pediatrics whichincludes topics such as growth and development, child abuse, common infectious diseases of children, traumas of childhood and birth abnormalities.
Infectious diseases.
Safe and effective care environment: This section covers around 21-33 percent of the questions asked in this exam. The questions relate to subjects like:
Administration of medicine to the patients.
Isolation precautions.
How to prevent infections and injuries.
Safety measures for people with psychiatric problems.
Safety measures for pediatric
Laboratory tests.
Test results and unique nursing procedures.
Nursing management.
Ethical and legal nursing problems.
How to give the best care topatients.
Maintenance and health promotion: Approximately 12 percent of all the questions in NCLEX RN Practice Questions examination comes from this section. You will find questions based on:
Pregnancy such as birth control measures, delivery and labor and all components of a patient's pregnancy.
Newborn and infant care, growth and development of the child, etc.
Sexually transmitted diseases.
Foetal development, signs and symptoms of pregnancy complications and knowledge of proper diet.
Pregnancy related procedures.
Psychosocial integrity: this section also constitutes for 12 percent of questions in the entrance exam. Topics covered in this section include:
Patients are having psychiatric difficulties and issues related to it and coping mechanisms for the same. Disorders such as depression, schizophrenia, personality disorders, eating disorders, organic mental disorders and anxiety disorders.
Therapy through substance abuse, communication and crisis intervention.
Types of the Question Asked
The questions are asked in the format of multiple choice questions. Recently NCSBN has introduced a new format for questions which includes:
MCQ's via checkboxes.
Recognizing and selecting a specific area of the body from the drawn picture.
Arranging the steps of medical and nursing procedures in the correct order.
Medication calculations based questions involving free response mathematics.
Levels of Questions
Questions in this exam consist of three different levels:
Level 1: 10 percent question in the entrance exam comes from this level. These are basic questions to test knowledge, skills and understanding of facts related to medicine.
Level 2: these are analysis and application type questions that form a major part of the paper.
Level 3: this section has the most complex questions that will need a lot of evaluation and judgement power.