Phone radiation has been a point for debate for a long time. Every smartphone emits radiation and it has to be under the certified level by the respective government and it's basically 0.6 watt per kilogram though varies a little agency to agency. But many of the smartphones that are basically being sold in the market are way beyond the permitted limit by the agencies.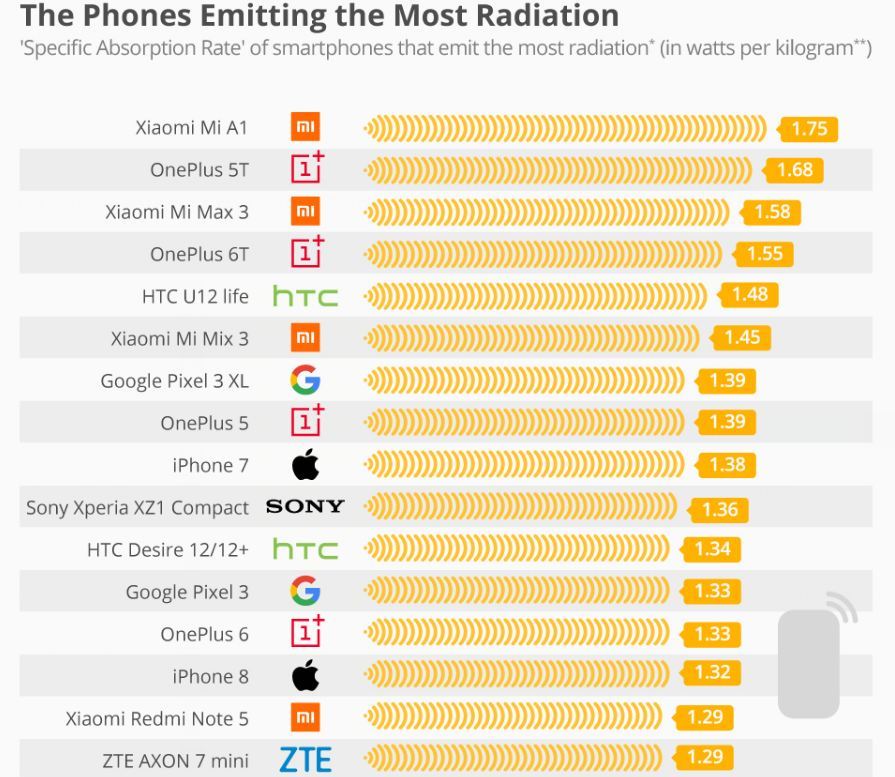 The shocking part is that many popular brands are the top on the list of offenders. Recently a famous radiation testing agency based in Germany has published a list and surprisingly Xiaomi Mi A1 topped the list with jaw-dropping 1.75 watts per kilogram. Some other brands like ZTE and Apple are also on the list.
Another shocking point is that One Plus 5T managed to come on the first five places on the list! It's really unfortunate to see brands like Apple and One Plus to see on the top positions on the list. Without any doubt, like every time Samsung is the best performer with least radiation.
Radiation hampers a lot. It can trigger brain tumors to grow and spread and sperm count to come down over the time of usage. Various agencies have published many papers on it and already have figured out how prolonged use of smartphone where higher radiation gets emitted every time.
One Plus 5T has scored 1.68 where Google Pixel 3 XL has a score of 1.39 and iPhone 7 has logged into 1.38 just a line behind! Samsung's Galaxy S8+ and S9+ have scored 0.26 and 0.29 respectively. Motorola's Moto Z also scored a fair score, 0.30.