The ICOs ( Initial coin offerings ) funding for startups have increased more seven traditional venture funding has leveled up the playing field and is an exciting opportunity for entrepreneurs.
Now anyone, anywhere around the world with the idea that people believe in can do a crowd scale fund for their business.
It's not about bitcoin anymore; There are over 1,500 emerging altcoins (alternative cryptocurrencies) out there which circulates a great promise of application beyond currency.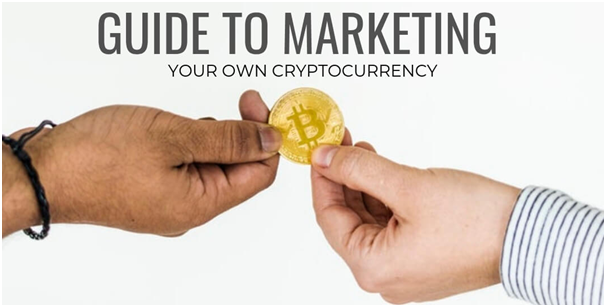 We are in the age where people create their own cryptocurrencies every day and the evolving technology that could have a meaningful impact across industries.
90% of crypto startups never gain traction because:
Some of these startups do not execute on a proper vision and purpose.
Some might release a great product, but they do it too late, and their competitor eats their dinner.
Some startups release a product but never can find a product-market fit They release a product which is already present in the market, which becomes null and void or a product that solves a problem that no one has.
They never sell an authentic product in the market
How to market your own cryptocurrency startup
Let's talk about how you can run an online marketing campaign for your own cryptocurrency.
Keeping it simple
Technical details, buzzwords, and industry jargons cannot be the focus of your campaign as explaining things in a detailed and straightforward manner will make the people understand the logic and idea of your project.
For crypto assets and the whole industry to grow, there is a need to be more friendly with non-tech users. Putting extra effort into simplifying and educating your target audience will have a high impact on your startup. Also read, How do I list a new cryptocurrency to the market?
Being a solution to a problem
Don't be the solution in search of a problem. Be the solution to a problem. Asking yourself the following questions will help your campaign better.
Find out what your project does, what real problem your technology is solving for real people or businesses, what your brand mission stands for.
Be Simple and open to your target audience
Be specific on your website and on your other platforms. Explain about your team and about yourself. Showcase your backgrounds, Show what makes you the right team to tackle the specific problem that you are addressing? Also letting them know your experiences and why they should trust you.
Remember, The bigger your idea is, the harder it will be able to accomplish it and the higher chances that you will disappoint. It's healthier for startups to take small steps towards long-term vision which can be revealed later on. Also read, Best Cryptocurrencies To Invest
Importance of developers and marketers talking to each other.
Marketing staff isn't precisely cryptographers, developers or mathematicians. They are people who are trying to gain the attraction of target consumers. That is why communication between the developers and marketers are vital, as they need to be aligned.
It is necessary to know the importance of this communication because, as a startup, you would want to make the marketers understand your project and your developing progress to create better communicate it to other non-tech people.
Marketing action on a massive scale.
Many people have made their own cryptocurrency, and if you want the attention that you require as a startup, you will need to take massive marketing action to get it. Without spreading the word about your project to a new audience, it will be challenging to grow.
There are a couple of activities which would help your cryptocurrency to grow. For instance, Creating great content and uploading it onto the big platforms, joining discussions on community channels and helping people out, getting yourself on the podcast shows, checking a long list of platforms where you can promote your startup.
Conclusion
If you understand the functioning of the industry and are interested in making your own cryptocurrency, you need to make your project and vision clear to the target audience. As this will help your startup gain closure and help with its growth.
This is our essential guide to different ways that we think are very important for planning to market your own cryptocurrency launch and promotion strategy.