Looking for a fun game that is simple yet challenging? Look no further! Word search games keep it simple as all you need to do is to find hidden words from a group of letters. However, it is easier said than done, as you will need to use your imagination to discover all the hidden words.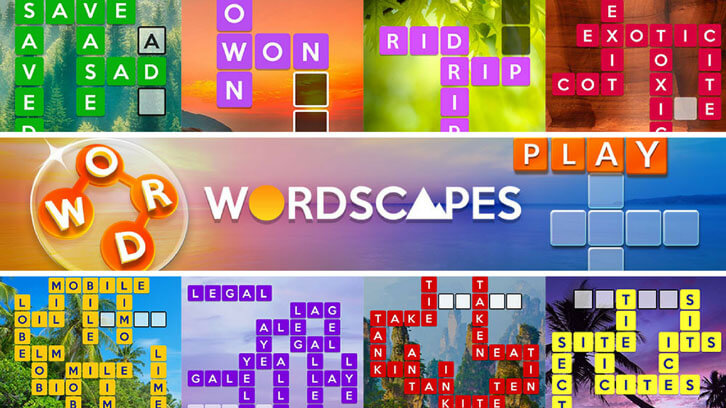 Although I remember playing lots of word search puzzles as a kid, I never imagined myself becoming addicted to them as an adult. Well, that was until a few months ago when a friend of mine introduced me to word search games I could play on my phone. Ever since then, they have become my go-to game whenever I have a few minutes to spare. Last week, the same friend sent me a list of the top 10-word search games.
Of course, I had to check it out. And, while I was at it, I decided to make my very own list of my top 3 favorite word games.  
Wordscapes – Crosswords & word search puzzles combined into one
One of my favorite word search games is Wordscapes. I find that it hits that sweet spot between crossword puzzles and word search puzzles, as you need to do a bit of both to complete each level. I also like how the difficulty level slowly increases as you advance, so you are continuously building up your vocabulary skills as you play. Supposedly, there are more than 4000 levels in the game, which you can play against beautiful backdrops such as an ocean, desert, sunrise, and forest.
I did find that the first few levels are a tad too easy. If you are a beginner that just might be exactly what you need, but if you are an advanced player you might find them underwhelming. Thankfully, the difficulty level increases at a steady rate, so you'll be hitting the higher difficulty levels the sooner you beat the easier levels!
WordWhizzle – Find the right words by following hints
Another game I really like is WordWhizzle. You start off with a small tile board of scrambled letters, from which you must discover the hidden words. As you advance through the levels, the tile board increases in size, making the game more challenging and harder to beat. I particularly like how you get hints in each level as to the type of words you need to uncover. However, there are many decoy words hidden in the mix, so it can take a bit of creativity to figure it out! Another feature I really like is that you can play online against your friends too!
While the game itself is really great, the only thing I am not fond of is the ads. On the upside, the video ads are short, and you can tap out of them after only a few seconds. For those of you who prefer to keep your gaming ad-free, you can do so by upgrading to the premium version. Although it is only a few dollars, the ads are not out of control, so you can still have fun without spending any money!
Word Search Magic – Cast spells & solve puzzles to become a wizard
My final pick is Word Search Magic. What I really like about it is that it takes the classic word search game and puts a twist on it, as you need to solve puzzles to advance in your quest to become a powerful wizard. I particularly like how the developers included the fantasy element in every area of the game. Not only do you need to uncover words hidden in magic scrolls to unlock bonuses and advance in the game, but you can also cast spells if you need help getting through harder levels. The in-game animations are excellent, and there is even a magic owl that accompanies you through your journey.
The only thing I could not find was an option to turn off the in-game music. While the music itself is not bad, sometimes it would be nice if you could just turn off the music with a tap. Until the developers include the option, a quick fix is to turn the volume of your cell phone all the way down when you play the game!
Conclusion
Whichever game you pick, I'm certain you'll have a great time. My personal favorite is Word Search Magic, as I love everything that has to do with magic. But the truth is that all of the games are great, so it just comes down to your personal preference. Good luck finding all the words!