In a bid to go cashless after demonetization uprooted the cash economy in India, the economic landscape saw the rise of many e-payment applications and wallets. In an attempt to cash on the restlessness that arose among people who were so used to cash-based transactions, these e-payment players in the market came up with easy methods to carry out cashless transactions. The first known name surfaced as the PayTm app.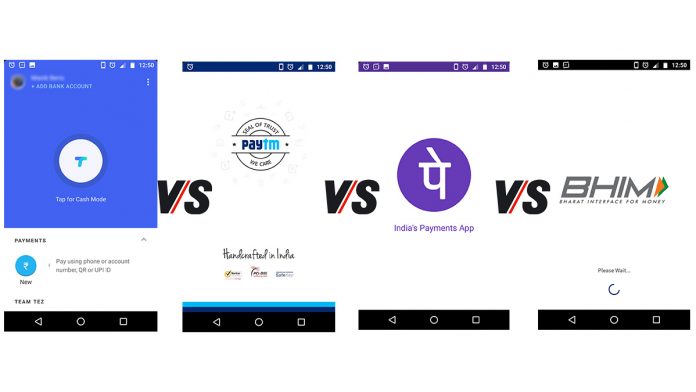 The e-payment app can be easily said to have benefitted the most from the after-effects of demonetization and the govt's focus on building a cashless economy. Company master data on Tofler shows that a humungous rise was witnessed in the users of the e-wallet after December 2016. The number is still on a rise, albeit the growth gradient receding a bit with the emergence of other players in the e-payment sector. Just as PayTm was making strides in the sector and easily classified as people's favorite, Google decided to come up with its Tez app to facilitate cashless transactions in no time. PhonePe was another such app to have emerged. And recently Whatsapp announced an in-app UPI payment option to lure more people to the messaging app. The Govt of India too had launched its own UPI based payment app BHIM to strengthen the cause of cashless economy. All of these options have their own pros and cons and come with their own set of restrictions.
Google Pay
The Company directors at Google thought this time is a great opportunity to launch their own e-payment app and strengthen their already vast consumer base in India. The Tez app is a simple interface to carry out e-transactions directly to your bank accounts without any transaction charges. Based on the UPI platform, Google Tez does not essentially classify as a wallet. It comes with a transaction limit of ₹1 lakh at a time and not more than 20 times a day. The app also allows its users to pay their phone and electricity bills and makes the booking of online tickets a whole lot easier.
The app can be found on the Google Play store and App Store as well for Android and iOS platforms respectively.
BHIM
The govt of India's BHIM app is a UPI based interface and lets the users perform transactions directly to their bank accounts. The transfer charges are nil. BHIM comes with a daily limit of maximum ₹20,000 a day and also per transaction.
PayTm
PayTm is the most suited option in terms of availability and functionality. The app lets you add money to your wallet from your bank account and vice versa at nominal charges. You can even book flight, railway, movie tickets from the app apart from paying your phone and electricity bills and carrying out recharges.
The app is constrained by a daily transaction limit of ₹1 lakh. The transactions can be carried a maximum 20 times per day.
PhonePe
PhonePe, owned by Flipkart, lets you transfer money directly to your bank account through UPI and also to your wallet. The wallet transactions are restricted to ₹10,000 per transaction and the UPI transfers to ₹1 lakh per transaction. The transactions can be carried out 20 times day. PhonePe also allows you to pay for your mobile and electricity charges.
WhatsApp Payments
WhatsApp collaborated with many Indian banks recently to come up with this new feature to its app. You can transfer money directly to your bank accounts using this feature through your WhatsApp. A daily limit of 20 times has been set on payments through this app and a maximum of ₹5000 can be transferred per transaction.
All considerations taken into view, Google Tez classifies as the easiest to use and popular e-payment app in India. While PayTm is more diverse in its functionality, the transfer charges mar the game for it. Tez, on the other hand, tops for its ease of use. WhatsApp might be the most used app on everyone's phones these days. The ease to make a payment right from within could be a dream come true for many.