Meizu had been one of the big names in the Chinese smartphone market but for the last few years, we have not been heard about this device much! But it seems like it's coming back with a lot of surprises! Meizu has revealed that its new flagship device Meizu 16S Pro is going to be released soon and the date has also finalized, it's 28th August!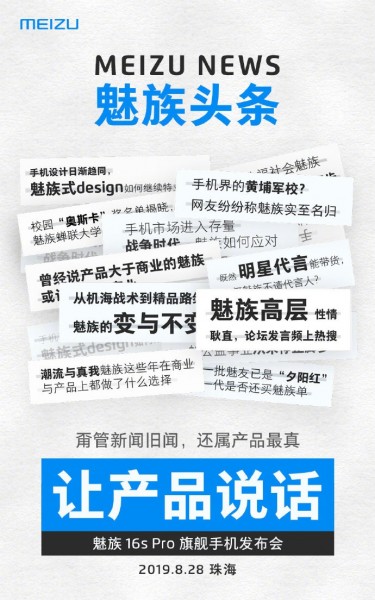 This device will have a 48 MP rear camera while having another two cameras to support wide-angled photography and depth sensing for a better portrait.
Meizu is coming back into the smartphone market with a new device having all competitive features. The processor that it's going to carry is a Snapdragon 855 and it posses all the features that we can take into consideration while comparing the devices with other devices!
As per our predictions, it will feature two RAM variants- one is of 8 GB and another is of 16 GB massive RAM while having 128 GB and 256 GB flash storage options!
The device will run on Meizu's signature Flyme OS 8 which is a version of Android 9 with some custom changes! So, let's keep our breath on hold and wait till 28th August as it's going to be launched on that day. Stay tuned for more updates on Meizu 16S Pro!