Samsung is working on its next sensation, a new A-series smartphone, Samsung A 90 which is believed to have 5G clearance and may get Snapdragon 855 instead of its signature Exynos processor though Samsung has mentioned that it has developed an Exynos processor that can deliver 5G performance without any interruption! Being a Korean giant, Samsung first gets all the clearance from Korean certification authorities that throttles its businesses in many countries as many countries accept that certifications! A few updates got leaked over online though we have predicted some features of this smartphone that may be intrinsic factors of this device!
Samsung has started building its own processor a few years ago though Exynos has no match of leading brands like Snapdragon etc. People often get depressed that Samsung uses Exynos processor but over the years the processor series got developed and now it matches maximum competitive fronts of Snapdragon does but still there's a lag!
We are expecting the same triple camera setup at the rear side where an 8 MP wide-angle camera and a 5 MP depth sensor will accompany the main shooter that's capable of shooting 48 MP! Have a look at the certification details below-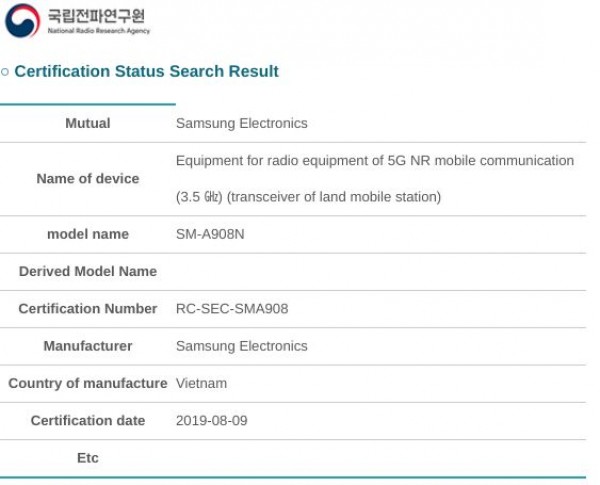 What's your take on this? Let us know by commenting below. Till then, stay tuned for more updates about this upcoming Samsung device, Galaxy A90!