Rat race all around! That's what one would definitely think of if he takes a look into the tech market of 2016. On the same day of launch of STK ACTION CAMERA, Canon, the heartthrob of camera freaks has launched its flagship model Canon EOS-1D X Mark II DSLR in India. This is said to be the successor of the Canon EOS-1D X.
Since Canon is the love of the photographers, many up gradations have been configured to the Canon EOS-1D X Mark II, as a successor to the EOS-1D X. As far as the basic features are concerned, the second generation EOS-1D X is of 20.2MP full frame CMOS sensor. The brand itself defines the picture quality of the images taken through this camera and above that the fact that it is a 20.2 MP leaves us beyond doubts that what will be the image quality even if the other features are not taken into consideration.
As far as other features are concerned the thing that is most important things about a professional EOS DSLR are its aperture, processor, focus, ISO, etc. so now let us take look into those features which define a camera's quality significantly.
Also Read: Honor X Review
Canon EOS-1D X Mark II DSLR Breakthrough Features
The EOS-1D X Mark II is embedded with the jewels of Dual DIGIC 6+ processors, up to 51,200 native ISO (409,600 expanded) and a 14 fps continuous shooting mode (16 fps with mirror lock-up). The other key features also deserve to be looked around at least twice. EOS-1D X Mark II has a 61point autofocus system, out of which every AF dot supports an f/8 max aperture, making the camera a perfect option for nature and wildlife shooters.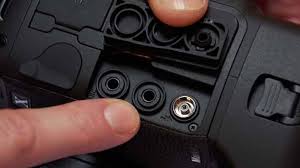 This camera is mainly constructed by keeping in mind the top professionals specially the nature photographers who may need to click limitless pictures of one particular object as a backup. This is because the EOS-1D X Mark II lets you click as many JPEG images as you want that fits in the card. This camera has a mind blowing burst mode that lets you do the above stated tasks. While said feature only works with a CFast card, you get a CF slot too, as well as a fixed 3-inch LCD (1.62 million dots), built-in GPS and a 3.5mm headphone jack — handy for monitoring audio in video mode.
Interestingly, Canon has brought 4K into mainstream DSLR. You can record up to 60fps at the rate of 4K internally. However, the company has confirmed that the touchscreen feature will be limited only up to recording a video. You can't access the menu by using this feature.
Well! The other options include inbuilt GPS with the option of adding WI-FI transmitter. The USB cable point is that of 3.0 for better and smoother transfer of images. If you are interested in this Canon EOS-1D X Mark II, then you may go for it as it's surely the best product ever manufactured by the Canon team till date.