Garmin has today introduced their new fitness tracker, Vivofit 3 and the Vivo Active HR in the ongoing Mobile World Congress in Barcelona. In this article we will discuss about the Garmin Vivofit 3. The previous model of this series Vivofit 2 was immensely popular among the fitness lovers and the Switzerland based company has kept the charm of the wearable in its upgraded version too. The Vivofit 3 is priced at $99 and can automatically track several outdoor activities including running, walking, biking and swimming. So friends check out the Garmin Vivofit 3 release date, price and key specs.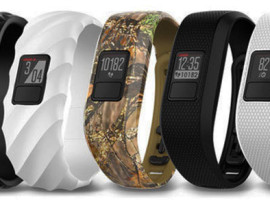 Garmin Vivofit 3 Design
Garmin has roped in the famous designer Jonathan Adler to create his own versions of the brand new Vivofit 3. This latest fitness watch from the house of Garmin will be available in two distinct categories; Garmin's own Style collection, and a series of accessory bands designed by none other than "the" Jonathan Adler. The company's own collection includes black and white colored bands, a periwinkle braided band, and even a camouflage band. Where as, on the other hand the Adler collection comes in a more colorful and vibrant way.  This famous designer uses four different colors and designs such as; purple geometrics, gray and green concentric circles, and a blue Godard-esque chevron pattern. The one feature which gives the Garmin fitness trackers a cutting edge over its contemporary rivals is that you can always change the strap according to your outfit and mood. So if you want to try your hands on the different colored straps we have mention above, you have to spend $40 for each different color and design.
Apart from the designs, the company also made changes on the screen shape. The screen is noticeably smaller than the Vivofit 2 which makes the band more discreet, although the gadget as a whole still looks a bit bulky. Garmin has introduced a new square shaped screen in this Vivofit 3 and also includes a new analog clock face. Moreover, the Swiss company has made some tweaks in the UI designs too.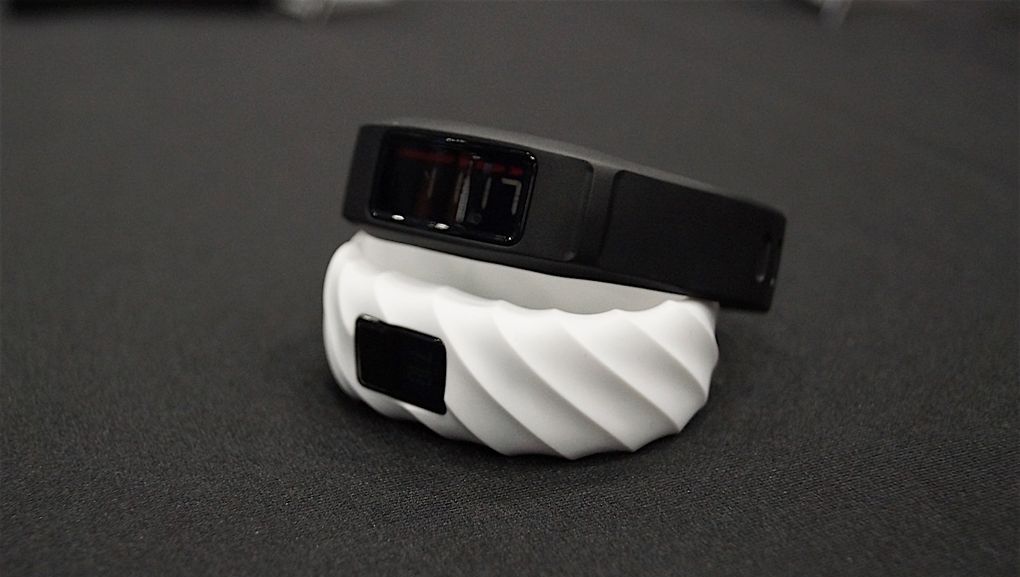 Garmin Vivofit 3 Features
 Garmin has revolutionized the concept of the fitness tracker and brought some major changes in the all new Vivofit 3 over the predecessor one. The company has incorporated the Auto Activity Detection and the Intensity Minutes metric in this Vivofit 3. So what do these two features offer? The auto activity detection technology tracks Running, Swimming, Cycling, Elliptical training and other outdoor activities. And the cherry on top it automatically detects the activities, so you don't have to switch out your watch while starting a new activity. As the fitness tracker automatically recognizes when your movement changes; so you can go from a walk to a run in no time.

The intensity minutes metric shows for how long you have worked on your fitness. The brand new Garmin Vivofit 3 counts your steps, calories you burnt, distance covered and also monitors your sleeping time and sleeping quality by the virtue of the Move IQ technology installed in the device. All this metrics along with the time can be viewed on the fitness watch's always-on backlit display. Unfortunately the fitness tracker does not include any vibration which means you can't use the Vivofit 3 as a silent alarm to wake you up in the morning
The biggest USP of owning a Vivofit fitness tracker has been the battery life, and that hasn't changed in this brand new Vivofit 3 too. The third-generation fitness watch uses a traditional coin battery, which gives it up to a year of battery life. Though you will have to manually replace the battery after a year, but that's a minor inconvenience is affordable considering you'll never have to charge the battery.
Like all the other Garmin trackers, the Vivofit 3 can also be worn in the shower and pool, meaning there's really no reason to take it off. The fitness tracker is waterproofing for up to 50 meters (164 feet). Though in case of swimming it does not count stokes or laps, just only measures the act of swimming.
Another notable feature of the Vivofit 3 is it tracks any and all of your movement, including the inactivity too. So by any chance you lose track of time and forget to move, Vívofit 3 will alert you. After 1 hour of inactivity a red move bar appears on the display and a gentle alert sounds tells you that you are inactive for a long period of time. This move bar builds after every 15 minutes until you reset it by walking for a couple of minutes.
As this brand new fitness tracker, Vívofit 3 learns your current activity level, it also assigns an attainable daily goal for you. As you achieve your daily milestones, the fitness watch will adjust your goal for the next day, gradually pushing you toward a healthier lifestyle. You can also view the detailed information of activities and workouts on the Garmin Connect app on Android and iOS. Through this app you can also challenge other Garmin device owners to mini competitions, as well as receive personalized smart coaching and feedback on your activities.

Garmin Vivofit 3 Key Specs
Physical dimensions: Regular wrist circumference: 5.4"-7.7" (137-195 mm); X-large wrist circumference: 6.5"-8.9" (165-225 mm)
Display size, WxH: 0.39″ x 0.39″ (10 mm x 10 mm)
Display resolution, WxH: 64 x 64 pixels
Weight: Regular: 26 g (0.92 oz); X-large: 28 g ( 0.99 oz)
Battery: One replaceable CR1632 coin cell
Battery life: 1 Year
Accelerometer: calculates distance for indoor workouts, without need for a foot pod
Calculates calories burned
Step counter
Auto goal: learns your activity level and assigns a daily step goal
Move bar: displays on device after a period of inactivity; walk for a couple of minutes to reset it
Sleep monitoring: monitors total sleep and periods of movement or restful sleep
Garmin Connect compatible: online community where you analyze, categorize and share data
Automatic sync: automatically transfers data to your computer
Garmin Vivofit 3 Release Date
Garmin has not officially declared the exact release date of Garmin Vivofit 3, just said the fitness tracker will hit the market in the second quarter of the year. So we expect the official release date of Garmin Vivofit 3 will be by the end of March or by early April.
Garmin Vivofit 3 Price
As we have said earlier, Garmin Vivofit 3 will be priced at $99 and if you buy the bands individually, then each strap will cost you $40.
Wrap Up
Hopefully this article on Garmin Vivofit 3 release date, price, features and key specs has give you an insight about the newly launched fitness tracker. For more tech news, CWC news and other gadget related news , keep glued to our site.