The South Korea based global mobile manufacturer Samsung Electronics has introduced its new product the Gear 360, a twin-lens golf-ball like camera which can snap 360-degree photos with ease at the ongoing Mobile World Congress (MWC) event in Barcelona, Spain. It seems like Samsung is slowly moving towards the untapped 360-degree imaging market with the launch of the Samsung Gear 360. It can capture spherical 30MP images and almost 4K resolution videos (3840*1920 pixels). The Samsung Gear 360 release date is yet to be officially announced but as per our sources it will be available in the market from the 2nd Quarter of this current running year.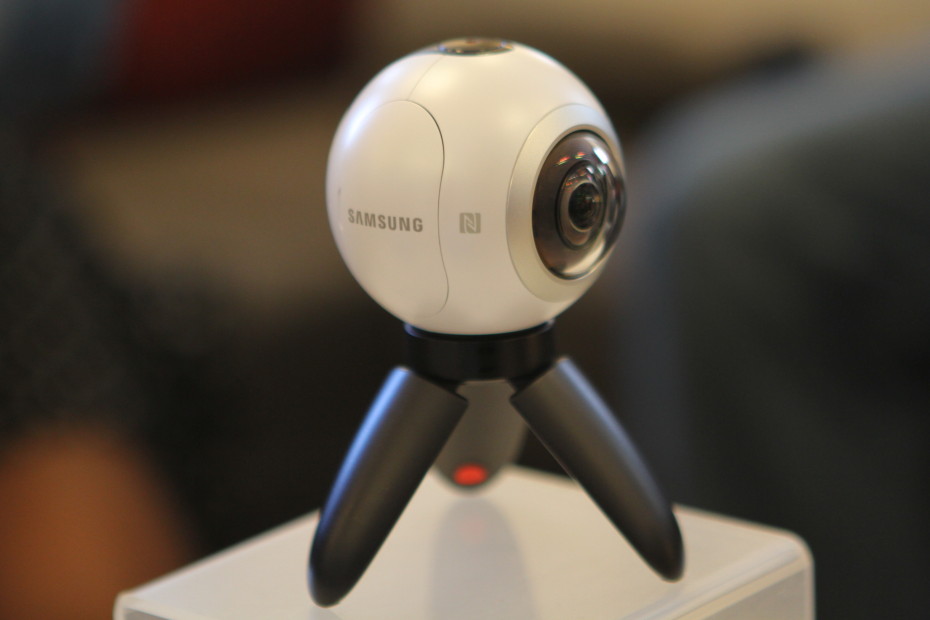 Samsung has designed the Gear 360 in such a way that it can be placed on a table or a tripod to capture decent quality 360-degree videos. It can even be used along with a drone for security purposes, as it will make shooting of 360-degree images and videos super easy. Now we will peek into the Samsung Gear 360 specifications in this article.
Samsung Gear 360 Specifications, Features
The Gear 360 sports a standard tripod mount and its bottom part is completely flat. It means this device can easily be placed on most surfaces (even on a tripod) with ease. The dual lens tiny-ball like spherical 360-degree camera also features couple of microphones to capture audios and a dedicated microSD slot. It has storage option of up to 128 GB and a replaceable battery which allows it for the active use of 140 plus minutes at least.
There are four different shooting modes in this camera which are video, photo, time lapse video and looping video. The Gear 360 is not having many features from outside, as it only contains menu, power and record buttons and a very small monochrome PMOLED display screen marking the white plastic finish.
The Samsung Gear 360 is dust resistant and splash proof. Both of the Gear 360's f/2.0 fisheye lenses covers a wide 195-degree angle of view which, when used together while using a Samsung Galaxy S7 Edge (it won't support all the Smartphones for sure) gives you a full 360*180-degree view in order to fully explore with a VR headset. If you wanna enjoy using the Gear 360 but don't wanna purchase the Galaxy S7 or Galaxy S7 Edge, then you can easily download an exclusive PC-only app in order to handle the stitching.
Here are some exciting Samsung Gear 360 Features at a glance
Dust-Resistant, Splash-Proof and water-resistant
Includes standard tripod mount on bottom
Replaceable, rechargeable battery
Dedicated MicroSD slot which supports up to 128GB storage expansion
Four different modes (Video, Photo, Time-lapse Video and Looping Video)
GoPro-style action camera recording via Single-lens mode
Exclusive PC-only app
Measures 66.7*56.2*60 mm (2.6*2.2*2.4 inches)
Weighs 153 grams (or 5.4 ounces)
Samsung Gear 360 Release Date
We are yet to receive any official call on the release date of the Samsung Gear 360. But it is expected to become available in the market from second quarter of 2016. As per our sources, Samsung will first launch its Gear 360 in the US market somewhere in August 2016.
Samsung Gear 360 Price
The Samsung Gear 360 price is yet to be officially revealed by the Samsung Electronics. But as per our sources close to this project this device would cost somewhere near $125 per unit. Currently we are waiting for official Samsung Gear 360 release date announcement from the company officials.
Wrap Up
The Samsung Gear 360 is indeed an exciting product and it symbolizes Samsung's firm step towards the nascent (yet untapped) 360-degree video imaging market. We will update this article as soon as we will receive any confirmation about the official Gear 360 Release Date or Price for sure. Till then stay updated with all the latest tech news with TechVicity.