The Sony MP-CL1 portable mobile projector has been launched in India at Rs 26,990. The small gadget that easily fits into one's pocket comes loaded with a number of great features. The handheld projector makes use of laser light source that delivers high definition resolution images (1,920 x 720p) with accurate colour rendition and high contrast (80,000:1). The projector is deemed as a new incredible way to watch, read, create and connect as its display screen is 120 inches can project at a distance of 3.45 metres. The device comes in an aluminium body with matte finish.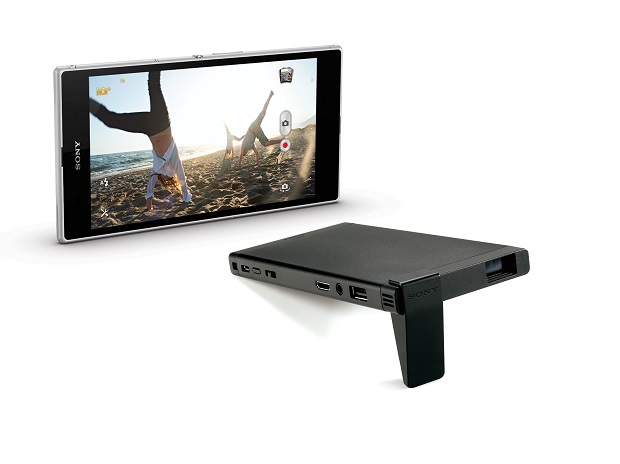 Sony has done great by adding a built-in speaker to the projector. The device supports a number of connection options, like connecting to a source via HDMI and interfacing with a tablet or smartphone through MHL. Additionally it enables users to wirelessly mirror contents from tablet, smartphones or desktops via WiFi through its  built-in screen mirroring function. The processing system of Sony MP-CL1 uses laser beam scanning technology that allows projection of high definition pictures even on uneven surface. All you need to do is sit back and enjoy great action movie experiences. And the auto-focus system adjusts focus on its own without the having to do a manual re-focus which saves you a lot of hassle.
ALSO READ: Sony Smartwatch 4 Probable Release Date, Price, Features and Key Specs
Other incredible features of  Sony MP-CL1 portable mobile projector include a built-in 3400mAh battery which can give up to 120 minutes of high definition playback. The device also includes a Micro-USB cable, a detachable two-way stand and also a HDMI to Mini-HDMI adapter.
Key Features of Sony MP-CL1 Portable Mobile Projector
Portable
40 inches HD (1920 × 720 pixels)
120 inches projection at a distance of 3.45 metres
80,000: 1 contrast ratio
Connects to tablet, smartphones or desktops via WiFi
WiFi 802.11 a/​​b/g/n (2.4 GHz / 5 GHz)
Dimensions: 7.0 mm x 149.5 mm x 13.0 mm;
Weight: 210 g
Built-in speaker
3.5mm audio jack
USB port for power and Micro USB to charge
3400mAh built-in battery for 120 minutes HD projection
ALSO READ: Sony Announced Latest IMX318 Sensor with 1/2.6-inch, 22.5MP, 3-Axis Image Stabilization
The Rs 26,990 price may seem a bit too high but Sony promises to give users with a innovative technology that is every bit worth the price. Additionally the portability factor plays a major role in the popularity of Sony MP-CL1 portable mobile projector. You can buy the device at every Sony official store and other retail partners.