We've already informed that Google's next Android version – Android N will allegedly ditch the App Drawer. In case you're not familiar with the feature, the app drawer allows users of smartphone to access app in the deceive apart from the one's that already present in the homescreen. The app drawer has long been a feature of Google Android. The speculation emerged after Google Maps tweeted a video showing-off its latest capabilities. In the video the phone used for demonstration had no app drawer. The absence of Android's longtime significant feature is kind of hard to miss. The rumour has drawn mixed reaction from Android users. While some fans are okay with the change, others wonder why Google wants to 'something that isn't broken"! In this post we are going to round up the best apps that'll replace Google's 'App Drawer.'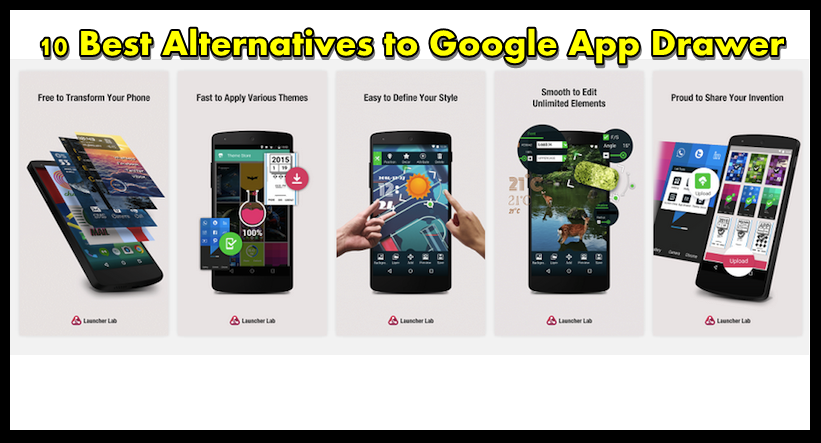 We can only hope that Google at least allows an option in Android N for users to enable 'app drawer'. If not then one can simply download a 'custom launcher' and use the app drawer feature. There are several such custom launchers available online, both paid (a very nominal price) and free. Since we've been using Android for a long time, we've come to the conclusion that the real beauty of Google's operating system lies in the potential to customise it. Practically any problem can be solved by downloading a relevant app. Below we have rounded up 10 best alternative to Google App Drawer:
1. Nova Launcher
Free/$4.00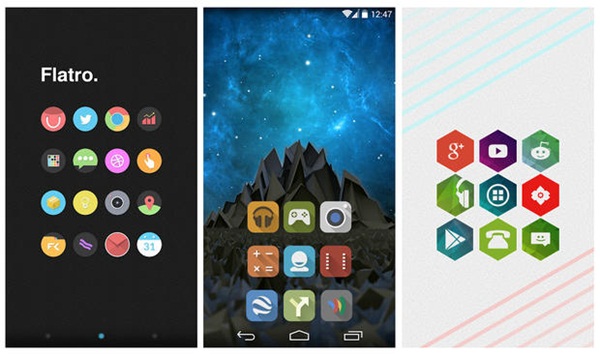 Nova dates back to the good ol' days. It is still regarded as one of the most efficient and relevant Android launch. It offers tons of customizable features including gesture features. One of the biggest positive sides of the app is that it updates quiet frequently to tackle bugs and other problems. Moreover, nova launcher has the option for users to backup and restore their home screen layout so the that the user can switch to a new phone and have access to the same design.
Get the app here.
Key Features:
Several icon themes
Subgrid positioning
Color controls
Customize App Drawer
Infinite scroll
Backup/Restore
Scrollable Dock and widgets in dock
Layout can be imported
2. Google Now Launcher
Free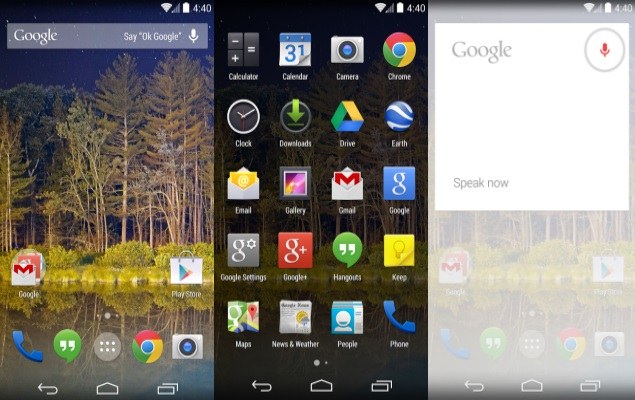 Google Now Launcher is the go-to app for Google fans. It offers a wide array of features like the "Okay, Google" hotword integration, quick access to search, A-Z app list etc. Although the launcher isn't too powerful but it slim and quick enough for people who don't want to deal with too may features.
Get the app here.
Key Features:
Swipe right from your Home screen to see Google Now cards
"Okay, Google" hotword integration allows users to tell what to do
App suggestions
A-Z app list
Quick access to search from home screen
MUST SEE: Top 10 Texting Apps for Android
3. Buzz Launcher
Free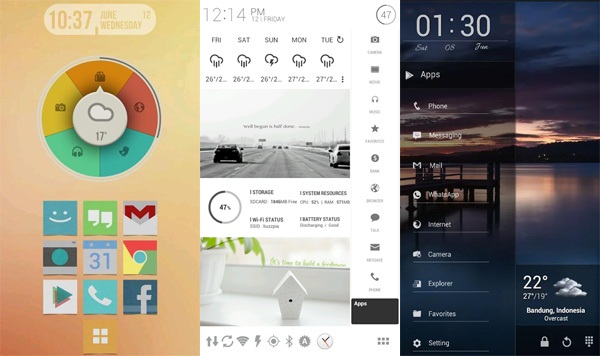 Incredible popular, Buzz Launcher comes with a feature called Homepacks that allows users to customize your theme and entire home screen altogether. The app is an excellent alternative for Google App Drawer and can easily offer tons of features which actually make the it a wee bit complicated but not too challenging though. Recently Buzz Launcher was recognized as the Best of Best Brand Identity for the Red Dot Awards and the best Personalization App for the Best App Ever Awards.
Get the app here.
Key Features: 
Create your own customized widget
View all Homepacks in a glance
Apply new home screens at a touch of a button
4. Action Launcher 3
Free / $3.99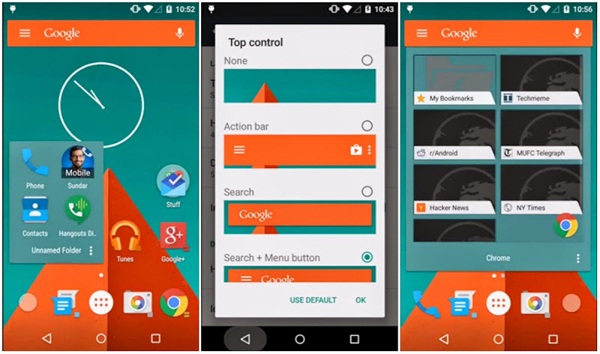 Action Launcher has got a massive following owing to the couple of unique perks they offer like the app uses background in order to determine the theme accents, hidden home screen that can be accessed from anywhere etc.
Get the app here.
Key features:
Frequent updates
Quicktheme – wallpaper are used to automatically customize and theme items on the devices home screen
Quickbar – customize the Google search bar at the top of the screen with shortcuts and apps chosen by the user
Quickedit –  alternative icon suggestions, without having to dig through icon group
Shutters shortcut – a swipe reveals an app's widget
Cover – an innovative take on folders
Quickdarwer – A-Z list of apps
Smartsize icons
5. Go Launcher EX
Free with in app purchases / $5.99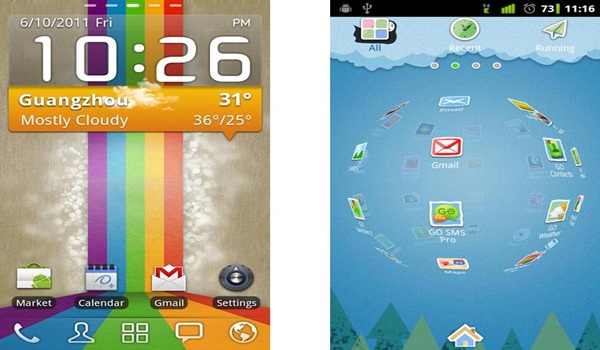 With over 200 million installation till date, the Go Launcher is definitely one of the best alternative to app drawer. Its a fairly simple app with extensive theme options. Its got interface design that helps enhance performance and efficiency significantly. This stylish, smart, slim and personalised app for Android users is a must.
Get the app here.
Key Features:
Provides extremely stylish over ten thousand beautiful mobile themes
Provides users with extremely fast and secure operating experience, owing to its  independent developed 3D engine
With the use of smart app management system the handset gets a boost and increases the efficiency of the device
17 transition effects available
Widgets like search widget, weather forcast widget, 2016 calendar widget and swithes widget.
MUST SEE: 10 Best Android Apps for Kids
6. Next Launcher 3D Shell
Free / $16.99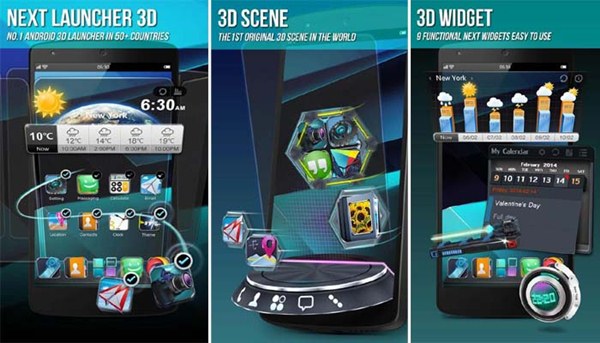 Next Launcher is developed by the Go Launcher Dev Team, the guys who are responsible for developing Go Launcher. This particular launcher features a 3D style home screen layout. users have the option to utilize a scroll tab that is present in the right hand side for the user to switch to other home screen the user has created. The app comes with a couple of unique widgets, some icons, themes etc. At Google Play Store, next launcher is the number 1 premium launcher.
Get the app here.
Key Features:
Fancy 3D effect with buttery smooth experience
The GO Launcher Dev Team constantly updates the 3D Next widgets, 3D themes and live wallpapers
Dazzling animation while switching screen
Multi-select Apps to fulfill batch operation on Android launcher home
7. Apex Launcher
Free / $3.99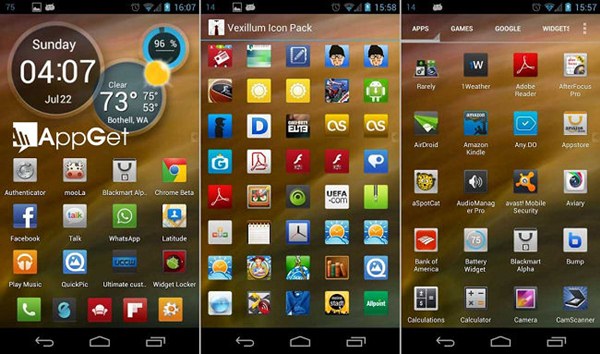 Regarded as one of the most iconic Android launcher, its an excellent choice for an app that substitutes app drawer. Known to work pretty stably in almost any device, the app had been available to Android users since a long time back. Its quiet similar to Action Launcher that aims at providing the ultimate android look and feel and exceptional features like transition animations, scrolling dock etc.
Get the app here.
Key Features: 
Customizable homescreen grid size and up to 9 homescreens
Infinite & elastic scrolling
Scrollable dock with up to 7 icons per page and up to 5 pages
Customizable icons and labels for shortcuts and folders
Fancy transition effects
Hide elements as you want
Optimized for both phones and tablets
8. CM Launcher
Free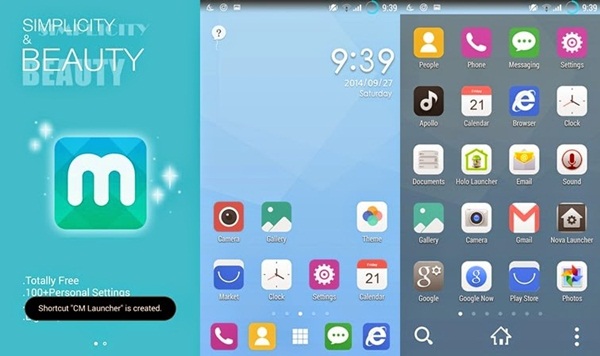 The app is developed by Cheeta Mobile Inc who are also known for making one of the best Android Antivirus App – CM Security. The app stands out for being light weighted, only 2MB, and using only a small amount of system resources. The launcher help in improving the phone's performance while also providing all the basic functions of a phone default system like Search, Screen management, News,  Weather, etc.
Get the app here.
Key Features:
Boost the device
Provides first class security
Options for personalization
It can auto sort your apps and categorize them
MUST SEE: Top 10 Best Gaming Monitors of 2015
9. Launcher 8 WP
Free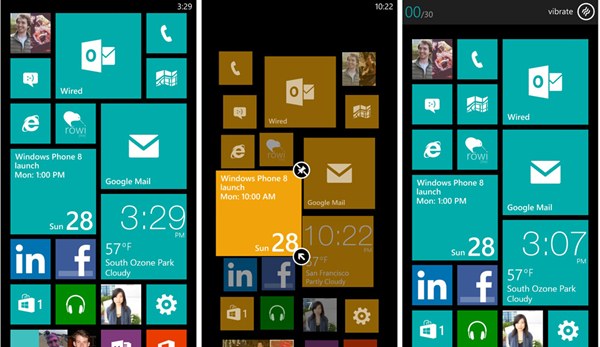 The app will make your device look less like Android and more like Windows. In fact that is exactly the soul purpose of Launcher 8. Developed by Xinyi Network the app is a excellent for any Android user who wants to experience the Windows phone UI style on their devices. Its fast, clean and customizable. Install the app and surprise your friend's and surprise you friend's with a desktop look in your Android device.
Get the app here.
Key Features:
Customizable tiles. LockScreen with with style and password settings
Stylish Status Bar with with time display and colour settings
DIY display mode with for your applications message notification alerts
10. Yahoo Aviate Launcher
Free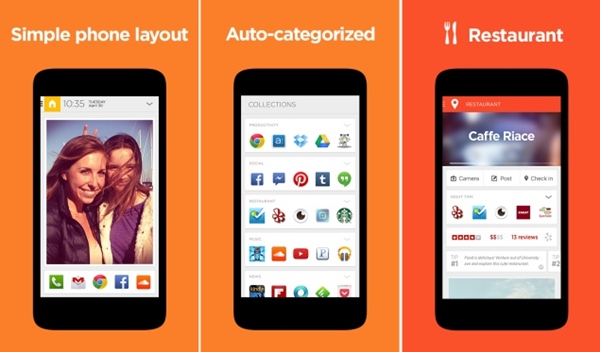 The primary purpose of Yahoo Aviate is to enable the users to find quickly what they are looking for so as to save time, time that can be used to do other significant work. The app doesn't just make your home screen beautiful but smart too. Your home screen will collect information and figure out app that are most useful to you. Based on that it'll serve the user.
Get the app here.
Key Features:
Clutter-free, provides simple, easy and beautiful navigation
Apps can be organized by function so that the most useful one's are easily accessible
Hundreds of unique wallpapers available
Choose your favourite people and swipe up instead of digging through your contacts
Convenient search box allows quick search of contacts, web, and apps
MUST SEE: 10 Best Android SmartPhones Under 10000 INR
Wrap Up:
The above list of best app to replace Google App Drawer is quiet possibly the best options available right now. While the need of app drawer is hotly debated, fans who'll be annoyed if app drawer is ditch, need not be too glum, thanks to the tons of app drawer alternatives available at Google Play Store. But while there are enough means for users to keep app drawers, there'll definitely be resistance when Android N ditches something as familiar as app drawer. At least for a while. Until we get used to it.