For the last two years, there has been endless rumours as to the iPad Air 3 Release Date. As soon as the iPad Air 2 was unveiled in October 2014, at Apple's special launch event, we all had secretly started counting days for the launch of iPad Air 3. Eager Apple enthusiasts had gone over the edge last year when speculations spread liked wildfire across the web that Apple was going to release iPad Air 3 by the end of the year. Of course it was only a rumour. But with the advent of a new year, iPad Air 3 Rumours  is once again gaining wind. The annual company event that the tech giant organises in march to unveil new products will hopefully be the auspicious day when iPad Air 3 will be rolled out into the world.
Is Apple Killing the iPad Air Line?
Update: Without any official confirmation from the maker, several rumours are doing the rounds. A fresh set of rumour suggests that Apple appears that the company seems to have lost interest in the Air brand. Christian Times reports that Apple is planning on halting production of iPad Air 3. And that the company will go on to launch a different version of iPad Pro, which is going to be the next big tablet by Apple. Some believe the speculations are marketing strategy devised by Apple. Parent Herald reports, Apple savant Ming-Chi Kou is expecting that Apple will refresh its iPad Pro family in 2017.  Sales of Apple tablet have dropped and their position is being overtaken by handier tablets, so that the next release needs to be incredibly impressive.
Original story
Tech buffs collectively agree that the third iteration of the iPad Air is long overdue but fans can hold their grudges back thinking Apple has spent that all time time developing the aforementioned device. Previously it was believed that the iPad Air 3 is unlikely to have 3D Touch – which is one of the company's main jewel – because of production issues but now given the extra time Apple has, fans expect them to be able to incorporate 3D this to the upcoming device. Here are all the latest rumours about the new iPad Air 3, from design to price and new features to dimensions, specs.
Also read: Apple Comes Out With A List Of Cars Supporting Carplay Facility
iPad Air 3 Release Date Rumours:
iPad Air 1 was released on 22 October 2013 and Air 2 was unveiled on 16 October 2014. Therefore based on Apple's past behaviours, it was predicted that iPad Air 3 will be launched in September/October 2015. But 2015 brought some surprising announcements from Apple when they went ahead and unveiled iPad Pro and iPad Mini 4 with no sign of the next iPad Air. To be honest, even before the official announcement there was a rumour last year that predicted iPad pro was so important for the company that they were focusing completely on the launch of the devise, sidelining other products. Apple's latest quarterly reports indicates a 19% decline year in iPad sales – a four-year low – therefore the company is understandably shifting focus. Tech gurus accordingly said that the iPad Air 3 had been pushed back to October. But October went by and now we are left to wonder if iPad Air 3 is in lineup to be released in March 2016. Of course there hasn't been any official announcement but that isn't stopping iPad Air fans from keeping their hopes up.
iPad Air 3 Design Rumours:
If MyDrivers, a Chinese tech site is to believed the phone will have 9.7 inch screen and 4K screen resolution of 2,334 x 3,112 which is a significant step up from the previous iPad Air 2. According to Cult of Mac, a smaller battery will allow it to shrink down to just 5mm thick (compared to the 6.1mm thickness of the iPad Air 2) and the device will possibly have waterproofing or dust-resistant features. The iPad 2 is pretty thin, mind you but if the new iPad 3 is going to be thinner then its likely to withstand bending better that the last one.
The Tampa Bay Review thinks, that very much like the iPhone 6s and 6s Plus, the iPad Air 3 is likely to be made of 7000-series aluminium. This is possibly done to make the new devises bend-proof and after last year's 'bendgate' trauma, it's a clever move.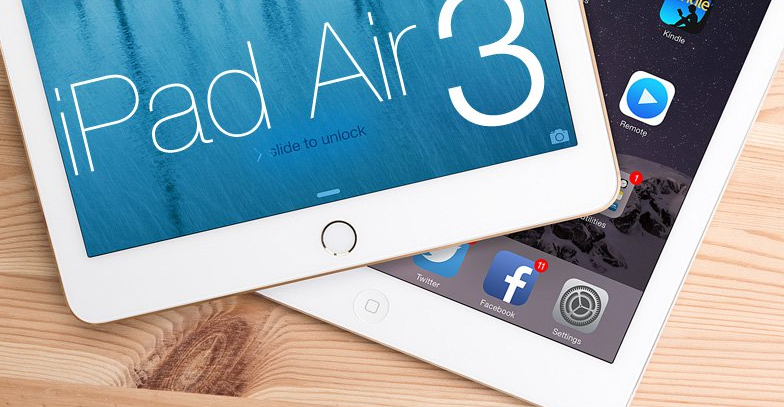 Also read: Apple iPad Pro Is Available In India At Rs. 67900
iPad Air 3 Colour Options:
The device will come in three different colour options: Gold, silver and grey, which is Apple's now-standard three colours.
iPad Air 3 Price:
The previous two Airs were launched with a £399 base price so Apple being pretty consistent with the price is expected to to release the iPad Air 3 on similar pricing.
iPad Air 3 Camera:
The iPad Air 1 has rear-facing (iSight) camera, from 5Mp to 8Mp and the next Air got additional features like burst mode, panoramas (up to 43Mp), slo-mo, time-lapse and timer mode. Although the front camera retained the same 1.2MP, Apple informed they had made the pixels bigger for better performance under low-light and has got improved sensors. There are reports that the iPad Air 3 will have 8-megapixel rear camera, 2.1-megapixel front camera and a fingerprint sensor.
iPad Air 3 Processor and Speed:
The iPad Air 2 had got new processor chip – A8X which when compared to iPad 1 was 12 times faster with a staggering 180 times faster graphics. Tech experts believe the new iPad Air 3 is not just going to be slimmer but more powerful, efficient and faster with the new processor chip, A9X. It is going to be supported by 3 to 4GB RAM.
Also read: Apple iPhone 8 Release Date, Price, Specs, Features, Concept Design
iPad Air 3 Storage:
One of the possible improvements that Apple could make with the iPad Air 3 is to offer significantly more storage. It's unanimously believed that the given the number of apps people use in their daily lives and since iPad tend to accumulate a lot, the existing 16GB comes across as pretty lame. Though Apple phased out the popular 32GB model leaving the line-up of 16GB, 64GB and 128GB, an increase baseline to 32GB would seem to be a sensible shift when the iPad Air 3 releases.
iPad Air 3 Battery Life:
Surprisingly, compared to iPad Air 2, the new iPad Air 3 is rumoured to have reduced battery capacity. But then again, its only rumour, one that would makes sense if Apple is indeed intending to produce a slimmer tablet.
Rumoured iPad Air 3 Features:
Thinner body
A9X processor
9.7-inch 4K screen resolution of 2,334 x 3,112
Between 2GB and 4GB of RAM
8-megapixel rear camera and 2.1-megapixel front camera
Wrap Up
Overall, a lovely device waiting to be unveiled by Apple. Obviously we are expecting faster processor, improved battery life and better camera. So, just be with us to get more information regarding iPad Air 3 Features, Release Date and Specifications.