Apple's upcoming event on October 27 has been the talking point of the tech world. The reveal that is most looked forward to from the Cupertino, San Francisco-based company at said an event is the new 2016 edition of the MacBook Pro. The upcoming reveal is bound to be at the centre of some speculations, and Apple experts and analysts everywhere have been busy trying to figure out what big changes the company is most likely to bring for its loyalists.
But while Apple can certainly be banked on to deliver on the features front, one reputed analyst says that the MacBook Pro 2016 may fall behind on the supply side of things. According to a Forbes report, Rhoda Alexander, an analyst at IHS Markit is of the opinion that Apple's initial supplies of the MacBook Pro 2016 will be limited due to the fact that production has started considerably late. It is expected that the new MacBooks will go on sale not long after their launch in late October. But for a device that is not that far away from going on sale, production has begun relatively late. According to Alexander, while the production procedure should have ideally begun much earlier to be able to meet widespread demands following its launch, the company could not go ahead with it before the fourth quarter."The production was slated to start in Q2 but got delayed. We saw some initial [production] runs — then it got back-burnered," she said.
Interestingly, Alexander also said that a next generation MacBook Pro is also in the works, but it won't be part of this week's reveal. She added that the device that is still being developed would be powered by Intel's new seventh generation Core i series chip called the Kaby Lake. Intel says that the new processor would be ideal for powering ultra-thin laptops that aim to provide 4K video rendering along with an overall boost in performance by about 19 percent.
Coming back to the MacBook Pro 2016 that will be launched this week, it is rumoured that Apple will finally adopt various colours for the upcoming laptop's body, which may be offered in shades similar to the iPhone. It is also said to be equipped with a fingerprint scanner and sport a thinner body compared to the previous generation MacBooks.
Update: 
Thanks to a few images that depict macOS Sierra version 10.12.1, we now have a glimpse of how the brand new MacBook Pro set to release on October 27 will look. The images demonstrate the Apple Pay function on a MacBook Pro that houses a OLED panel at the top of its keypad.
MacRumors suggests that the panel may be called the "Magic Toolbar" and can adapt to the function  that is required of it relating to what is currently on the screen.  The panel  seems to have Apple's own fingerprint recognition technology known as Touch ID built into it, and accompanying images showcase a customer being asked to confirm a purchase by pressing a finger on the panel.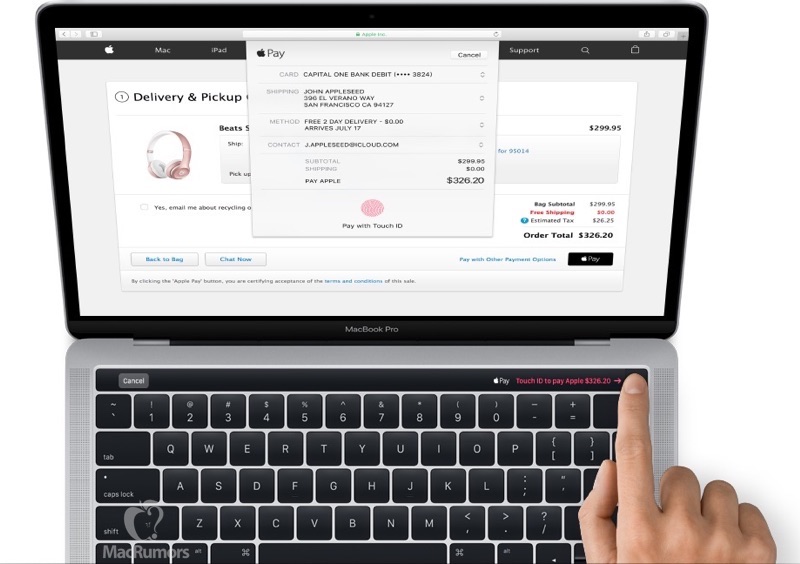 While most other features look quite similar to existing MacBook models, one thing that stands out in the images is that the new MacBook Pro will sport much flatter keys for typing ease. Unfortunately, not much else can be made out from the images, but we probably do not have to wait too long to find out more.