Ever since the reports of the Nokia 8, manufactured by Finnish company HMD Global, which has the rights to the Nokia brand name, started appearing, and a new silver color variant appeared to be heading towards launch, there have been reports of a newer and cheaper device which may be called the Nokia 2. Now, a leaked image from China has appeared and it shows off the Nokia 2 being compared to the Nokia 3, the latter having 2GB of RAM on board.
While there have been cheaper Nokia devices in the news in the last few days, those were not smartphones. The Nokia 2 is important to the company because the price tag is what many consumers look at before migrating to a new smartphone. This report by GSMArena also suggests that the new device may be powered by the Qualcomm Snapdragon 212 processor.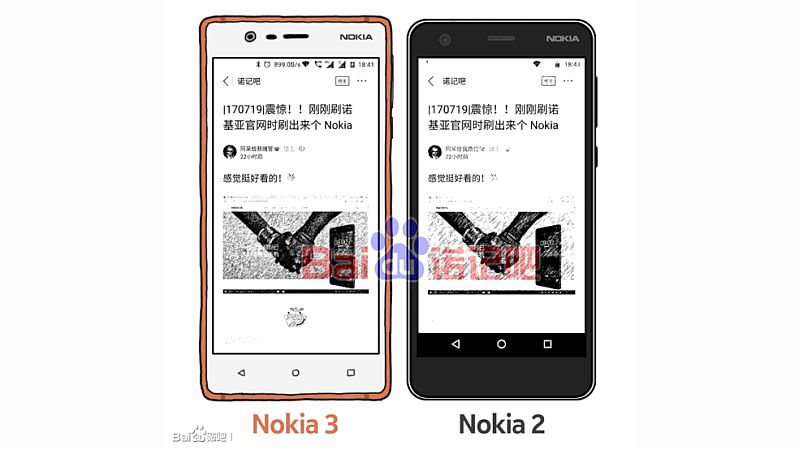 We could pick out a few more points about the new Nokia 2 as well. The new Nokia 2 does not seem to have a fingerprint scanner on the front. The scanner may not be on the rear as well since the Nokia 3 too does not have the fingerprint scanner. This is one of the factors which will make the new Nokia 2 even more affordable. There are indications that Nokia might have software-rendered Android buttons even in this entry-level model. None of the other Nokia devices can currently boast of such an arrangement.
Similar to the Nokia 3, the new Nokia 2 may have the same 5-inch screen. However, the overall shape of the device appears to be slightly more rounded, indicative of Nokia's previous relationship with Microsoft, and especially reminiscent of the Nokia Lumia 620.
However, we do advise you to take the reports about the new Nokia 2 with a healthy pinch of salt. After all, in the end, these rumors may turn out to be exactly what they are: rumors.