Xiaomi is back in the headlines yet again. And this time it is due to the Redmi 5. Few leaked images of the Xiaomi Redmi 5 have come out which have revealed quite a crucial information related to the specs and features of the smartphone which hint that the launch might not be too far away.
The smartphones in the Xiaomi Redmi series have been pretty popular among the consumers and it is expected that the situation is going to get better with the launch of the Xiaomi Redmi 5. The leaked specs and features of the smartphone validate that claim. It is in the Chinese social networking platform Weibo that the smartphone has been spotted which have thrown light on the number of variants of the device that are going to come out.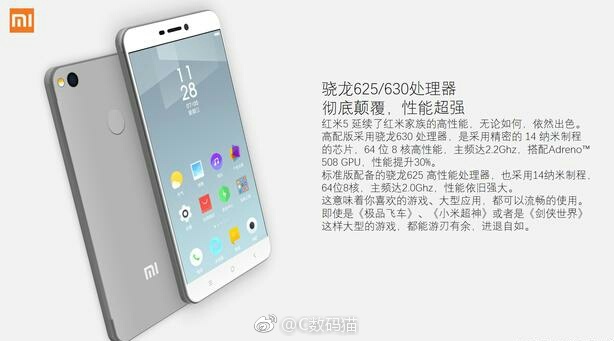 The leaks have revealed that the smartphone will be powered by the Qualcomm Snapdragon 625 chipset under the hood coupled with 3 GB RAM and 16 GB ($125) or 32 GB ($152) internal storage. Another variant of the device from Xiaomi with Qualcomm Snapdragon 630 chipset might also be available. The chipset here will be either clubbed with the 3 GB RAM & 32 GB ($162) native storage or 4 GB RAM & 64 GB storage ($191). The price tags of the handsets hence vary based on that.
The Xiaomi Redmi 5 is going to be backed up by a battery of 3,680 mAh. Also, the device is expected to run on an Android 7.0 Nougat operating system with the MIUI 9 on top of it. The fingerprint scanner is going to be placed where it was in its predecessor.
Other than all these, nothing much has been revealed. And we expect further details to come out soon, particularly regarding the display of the device. In the upcoming days, we are bound to come across further details related to the Xiaomi Redmi 5 as well as the other devices like the Xiaomi Redmi Note 5 & Note 5A which are in the news. So keep coming back here in order to get all those updates.