With ASUS ZenFone AR, fans are lucky enough to get their hands on the world's first smartphone that lets users experience both virtual as well as augmented reality. Exclusively, the handset was unveiled at CES in the month of January. But the company lacked to offer any further announcement regarding the smartphone to make its US debut. Hence, US fans were eager to receive confirmation about the heading of ASUS ZenFone AR. Fortunately, the Google Tango-supported phone has arrived as a Verizon exclusive in the US.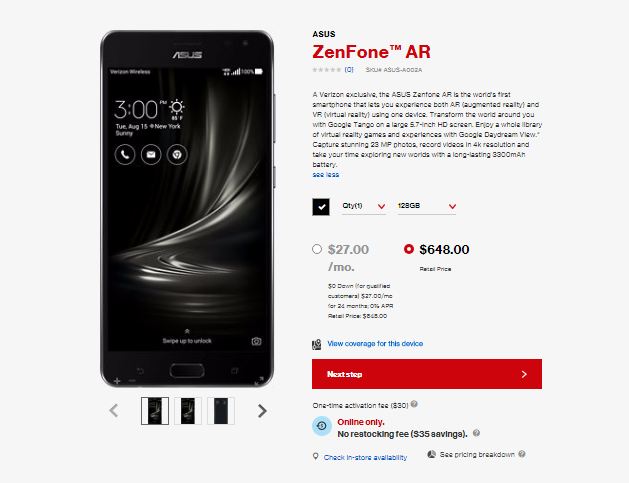 The American  telecommunications conglomerate, Verizon has offered the ZenFone AR handset by stating it to be "A Verizon exclusive." ZenFone AR is now available either for a preorder at Verizon priced at $648 or $27 each for 24 months, as per the listing. Furthermore, visiting the site, one can easily view the statement offered by Verizon regarding ASUS ZenFone AR. The smartphone has also been stated to be "the world's first smartphone that lets you experience both AR (augmented reality) and VR (virtual reality)."
"Transform the world around you," Verizon states about its large 5.7-inch HD display. Undoubtedly, the ZenFone AR smartphone is powered by excellent features offered to ASUS fans. One can explore the gaming universe with the help of virtual reality and Google Daydream View. On the optic front, ASUS fans would be allowed to "Capture stunning 23 MP photos" as well as experience the super powerful and life of the battery backed up with 3300 mAh capacity. Recording the motion frames will be easier with ASUS ZenFone AR, as it offers videos in 4k resolution.
Under the hood, fans get the Snapdragon 821 processor alongside a RAM of 6 GB. The ASUS smartphone runs Android Nougat and comes with a 3.5mm jack. With the front imaging perspective, the handset features a selfie shooter of 8 MP alongside an aperture of f/2.0. Originally when ASUS ZenFone AR's 8 GB RAM and 128 GB storage variant was launched in its home country, the smartphone rolled for TWD 24,990 which in India approximately is Rs. 53,100.