Chinese tech conglomerate, headquartered in Beijing, Xiaomi, through a Weibo post, has recently disclosed that its  Mi 6 Silver variant will come up for sale today at 20:00 (time in China). The sale of the last 100 units of the Xiaomi Mi 6 Silver Edition smartphone will be held at the Xiaomi Mall.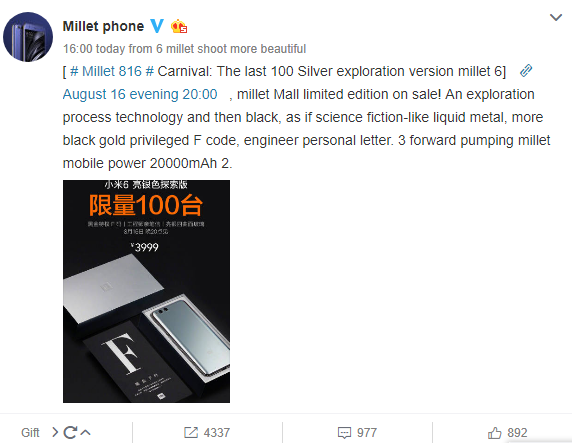 Right from its inception, Xiaomi Mi 6 Mercury Silver Edition was a much talked-about variant. Even when the rumor mill offered the news of Mi 6 Silver Edition variant to launch soon, the smartphone was speculated to roll out with the 5.15-inch Full HD 1080p display. Now with further reports, the device will come up with the last 100 units of Mi 6 Silver variant alongside the Chinese company will also conduct some promotional Carnival as well.
Design wise, the Mi 6 Silver Edition is pretty exceptional. Developers have built the handset with glass material alongside a layer of silver. The glass section of the device sports special ultra-reflective mirror with different shaded coated in it by electroplating using a special electroplating process. The Mi 6 Silver variant was earlier informed to roll out with a signed letter in the form of a memorabilia. The letter consisted of handwritten "thank you" by Xiaomi's seven co-founders.
With further possibilities and news, little do we speculate about the device to come with the letters as well as the F-codes. The Mi 6 Silver edition is similar to Xiaomi's Mi 6 smartphone. It is powered by Qualcomm Snapdragon 835 clocked at a lightning fast 2.45 GHz. Besides, the handset comes with a RAM of 6 GB alongside a native storage of 128 GB, under the hood.
As per operating system, Mi 6 Silver variant runs the Android 7.1.1 Nougat OS and is priced at 3.999 yuan (approx. $ 592). Also, a higher price tag of 1000 Yuan and 2.999 yuan are offered for Xiaomi Mi 6 Mercury Silver Limited Edition and the Black variant respectively.