Some renders of the Samsung Galaxy Tab Active 2 have appeared and they have shown off some spectacular new features. Most notable among them is the S-Pen, which is Samsung's version of the stylus, the removable battery, and the IP 68 chassis which will act as protection from both dust and water. The Galaxy Tab Active 2 is the successor to the Galaxy Tab Active 2 from 2014.
The new information was first leaked by Ronald Quandt on Twitter. Quandt added that there would be two variants of the new tablet: the Samsung Galaxy Tab 2 with Wi-Fi and another variant with Wi-Fi + LTE. The respective model numbers are SM-T390 and SM-T395. Samsung has just launched the Galaxy Tab A (2017) series in India.
The new S Pen stylus will aid in improved functionality and the Home button is positioned just below the display. This is integrated with a fingerprint reader for added security. The bottom side also features a USB-C port. From what we could make out of the leaked image, there is a likelihood that the device will feature Bixby Home. The chances of the Bixby Voice feature making it onboard is unlikely.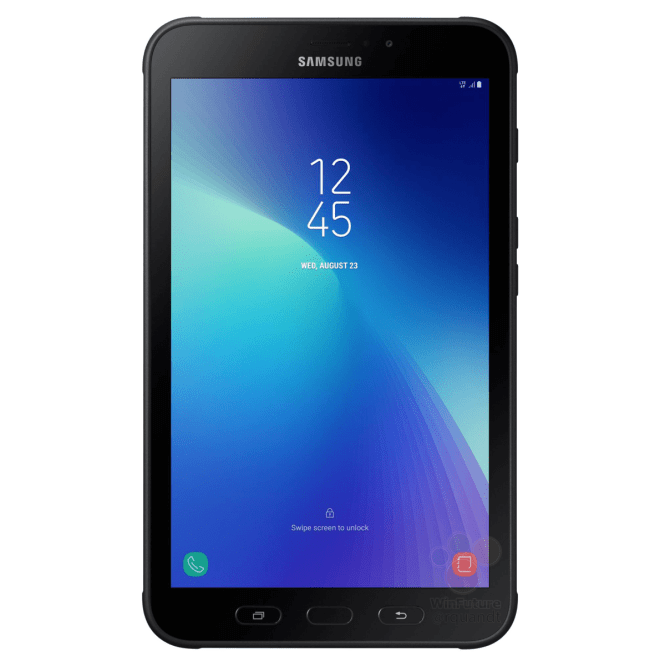 The external POGO pins will mean that the users will be able to attach some external devices to it, like a barcode reader.
We believe that the new Samsung Galaxy Tab Active 2 will have a lot of great features. The 8-inch TFT LCD display has a resolution of 1,280 x 800 pixels. It also offers 480 nits of brightness. Quandt claims that it is powered by an Exynos 7880 chipset which also features a 1.6 GHz octa-core processor. This Exynos SoC is ably supported by 3 GB of RAM.
The internal storage of 16GB is disappointingly small. On the rear is an 8-megapixel camera which is also enabled with auto-focus. The 5-megapixel front snapper is also pretty decent. Besides Wi-Fi and LTE, this new tab will also have connectivity features including v4.2 Bluetooth, GPS, and NFC. We believe that this device will have facial recognition software enabled. A huge battery of 4,450mAh capacity is also expected.