If the latest reports are to be believed, the OnePlus 5T may release on the November 16. There were reports previously that the new device would come on November 5, as we had reported earlier. This new device is all set to be an upgrade over the OnePlus 5. The OnePlus 5 has already been one of the greatest devices ever launched. A new poster which has now appeared has shown off that the 16th may well be the launch date.
The news comes via SlashLeaks and can be viewed here. A poster, which looks like a screengrab of an online marketplace, and shows off the fact that it will be available as an Amazon exclusive product. We do not know from which country the poster originally came from at this moment.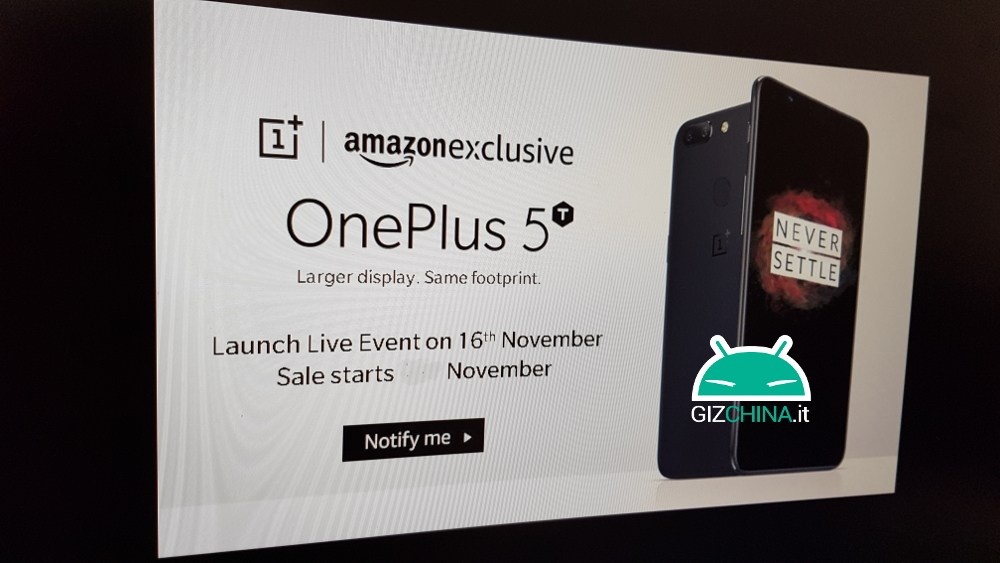 It is obvious that the new OnePlus 5T looks very similar to the Oppo R11s. This means that the constant rumors of these two devices being almost alike is now officially sealed.
There were some reports that the OnePlus 6 would be released instead of the OnePlus 5T, as we had reported here. Of course, Carl Pei, who is the CEO of the company OnePlus, has stated that the OnePlus 5T may be en route after all.
The OnePlus 5T is one of the best devices to have launched recently. The specs are excellent as well. Like we mentioned before, there will be a 6-inch display that may possibly have a 2160 x 1080 pixels resolution. This means that there will be an 18:9 aspect ratio. The OnePlus 5T is a flagship model and is expected to be powered by the Snapdragon 835 flagship processor, similar to the OP5.
We expect at least a 8GB RAM & 128GB of memory; there will also be a 6GB RAM & 64GB storage variant as well. As far as the cameras are concerned, we are likely to expect a 20MP plus a 16MP dual camera setup on the rear. On the front, there will be a 20MP selfie camera.