Finally, there has been some development on the launch/unveiling date of the OnePlus 5T, the next-generation flagship device from OnePlus. The device is all set to launch at a glittering ceremony in New York City on the 16 of November. This is in line with what we had predicted before. The price tag may well be under 4,000 yuan if the latest reports are to be believed.
How did we come by the official confirmation? Wel, OnePlus has recently unveiled a teaser video on its Twitter handle. This is the first time that anything concrete has been announced by the company. Also, on the official website, which you can access here, there is a dedicated page which points toward the launch date of the company.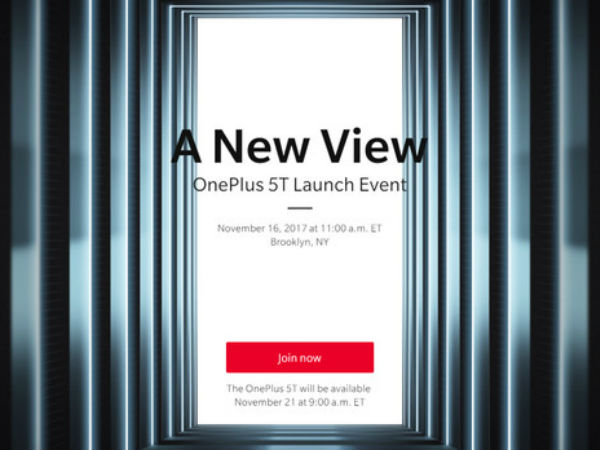 So, while the device will be launched in NYC on the 16, it will be available for sale starting 9 AM ET, 21 November.
We have earlier extensively covered the OnePlus 5T, and we believe that it will keep the headphone jack. Also, the tweet boasts of "A New View", a possible reference to the full-screen display which is achieved thanks to the extremely thin bezels. Also, we believe that the new device will have a 6-inch FHD+ display as well as an aspect ratio of 18:9.
Besides the launch date, the place of occurrence, and the time, OnePlus has been reticent on other details. Given that the CEO of the company, Carl Pei, had divulged, perhaps accidentally, that the new device would have a price tag of 4,000 yuan, it is likely that the new device will be more expensive than the current OnePlus 5. But not by much.
Not much is known about the OnePlus 5T at the moment, at least officially. However, it does not mean that the specs are hidden from public view. We had earlier covered the device here.