Even though Apple's massive fame for its product lineups is margined to infinity, the Cupertino tech conglomerate is promptly in need of variety. The last time this tech world witnessed Apple releasing new product was the iPad which despite being an inarguable success proved difficult to maintain its momentum. Augmented reality, being a new and exciting platform, wouldn't be of a huge competition (at least as of present) for Apple. Hence Apple working on something massive with AR software is very much a possibility.
Things get clearer with the latest report which has been subjected to Apple's potential replacement for its flag bearer, the iPhone. Apple's smart glasses have been longly rumored device anticipated to come with the augmented reality feature. The standalone AR device has had its fair share of leaks and anticipations in the recent past. But the latest report indicates that the alleged Apple Glass would be nothing unlike the regular pair of glasses with the design kept simple and stylish. What's great, years ago Google's AR glass saw the light of the day but was failed to impress fans due to the looking design. With the simple smart glass, Apple is apparently set to leave no stones unturned.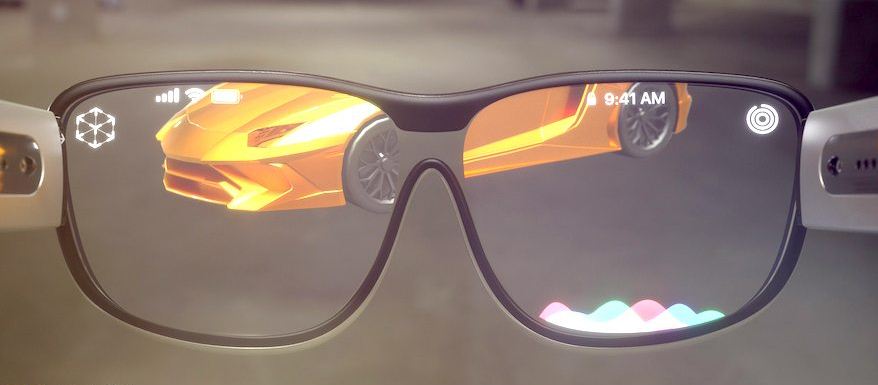 In terms of design, Apple's smart glass will likely be manufactured with high-end metal. The frame might have a slew of cameras, reports Gizbot. In addition, there would be wireless antennas which will enable users to use this particular Apple device as an alternative to their smartphones. So in a way, we are plausibly approaching the world of smart glasses, the potential replacement for smartphones (iPhones).
Little do we know that like the iPhone X's controversial 'notch', this Apple glasses might house the camera as well as one of the ambient sensors. The sides of the device will be occupied with Bluetooth and Wi-Fi components. Also, like the iPhone, this smart glasses is believed to come with split antenna design. Fabricated will be the arms of the glasses which will bestow a comfortable design. With the inclusion of Siri, Apple's glasses will also sport display maps, videos as well as texts.
While the glasses are expected to be sans the power port, wireless charging is the ultimate mode to fuel it accordingly. Despite Apple refusing to confirm the existence of smart glasses publicly, reports already shed lights that the Cupertino tech giant is developing an AR-based device via Tim Cook's speech, and we already know that it apparently will happen and, "it will happen in a big way, and we will wonder when it does, how we ever lived without it. Like we wonder how we lived without our phone today."