Astrum recently has added the new 'true wireless earphone' which is claimed to offer good sound, noise reduction as well as build quality which is able to survive a strenuous workout for casual listening too. The 'one size fits all' design alongside the ear hooks offers a firm grip on the earphone and hence it makes it ideal for any sporting activity. The new earphones have been designed with IPX5 water resistance. Users can either choose to experience isolation or even hear the world using the Hear Through technology.
The new Astrum earphones feature the Bluetooth technology which enables users in order to connect the earbuds to smart devices. Talking about the earbuds, it comes with a built-in mic which also supports Touch Interface in order to control Hands-free calls as well as music. Claimed to offer to up to 2.5 hours of the playback time, the device also is capable enough of offering 12 hours of standby time on one charge. The CEO of Astrum, Mr. Kumar, on the latest launch has stated, "The Wireless freedom is now truly achieved. We are excited about the launch of our latest in India, portable and lightweight with no compromise in sound it adapts to your dynamic lifestyle"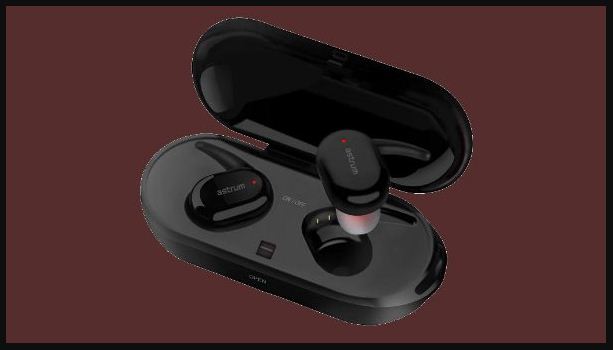 The new wearable also supports the Multi-function connectivity with a Twin Mode: it can either use 2 earbuds at one go and share the same music with someone else through the Single mode, or can choose the right one or even the left one, each Bluetooth earphone has the capability of connecting to two Bluetooth devices at one go. Ensuring a secure as well as a comfortable fit, it comes with free bundled Comply ear hooks as well as a host of ear fins. It weighs a mere 50g and is compact enough to get fit in one's pocket. The product has already been made available via the retail as well as e-commerce sites in the Indian markets at just Rs. 5,190.
The company last year in November launched a foldable Bluetooth headset dubbed the HT600 Leather Headset which was priced a Rs. 4,990. The HT600 Leather Headset features Bluetooth Version 4.0 which allows to pair up two mobile phones simultaneously.