The South Korean tech conglomerate has decided to launch its 2018 flagship devices at the MWC event on 25th of February. Rumors and clamors have been doing the rounds more often concerning Samsung's 2018 flagship devices: the Samsung Galaxy S9 and Galaxy S9+. Going into the depth of what has recently been spotted in a report, both the smartphones will feature the Qi wireless charging technology.
An official Samsung company-made user manual shed lights on the aforesaid specification which has been leaked with redesigned Fast Wireless Charger for Samsung's Galaxy S9 as well as Galaxy S9+. From the Samsung manual, the new EP-N5100 wireless charger is seen along with that it reveals that it's thinner than the predecessor. Reports indicate that Samsung's EP-N5100 fast wireless charger is believed to come with two internal charging coils opposing to three which was found on the Galaxy S8's wireless charger. Like before, users will be capable enough of placing the Galaxy S9 or S9+ smartphones horizontally as well as vertically on this new wireless charger which looks to be foldable and is similar to its predecessor.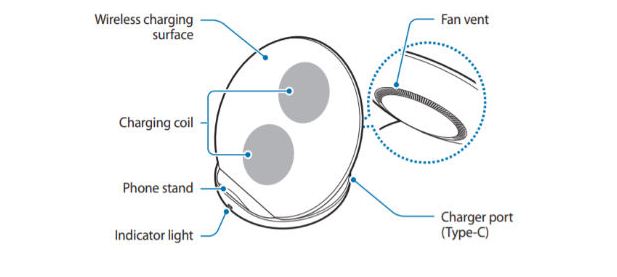 It is expected that Samsung will continue to use the Qi standard for fast wireless charging in its smartphones. The diagram (as aforementioned) furthermore suggests that the handset will also feature a charging indicator light that turns red when charging and becomes Green when fully charged. And when due to a general error the smartphone isn't charged properly, then a flashing Red light will appear.
Samsung's fast wireless charger allegedly developed for the upcoming Galaxy S9 and S9+ smartphones is expected to support 9V/2A, 9V/1.67A, and 12V/2.1A charging that is expected to offer 18 watts of power on paper when compared to 15 watts produced by the Galaxy S8's EP-PG950 wireless charger. However, other reports found that the output of EP-N5100 fast wireless charger will remain below 15 watts.
The device is also expected to feature a USB Type-C port in order to connect to a power outlet as well as an integrated fan at the rear in order to keep the smartphones cool when it is being charged. The new Samsung wireless fast charger is expected to come with a price tag of about 75 euros (which is approx. Rs 5932).