Reliance Jio, one of the largest telecom operators in India had revealed its intention to enter the home based broadband internet industry by announcing the Jio GigaFiber broadband internet service at the 41st AGB held in early July. This service is expected to disrupt the market as the company is set to provide high-speed broadband internet service along with an internet-based television service at a much cheaper price.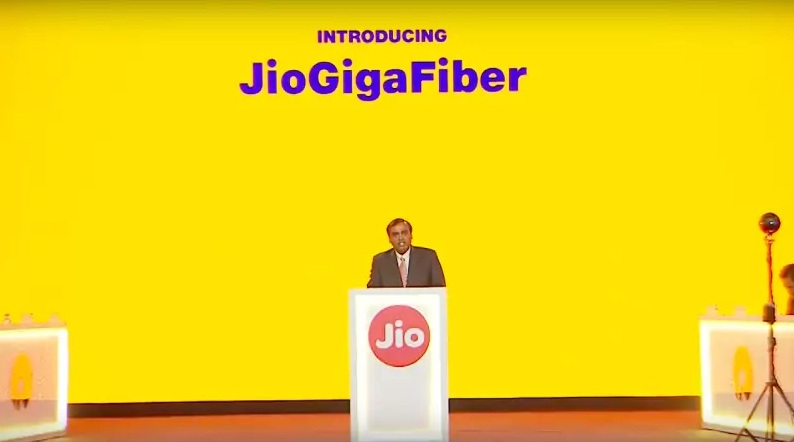 Alongside the Jio GigaFiber broadband internet service, the company had also announced the rollout of JioPhone 2 at the 41st AGM of Reliance. Registrations for both these products are set to begin from August 15, and the commercial rollout of the service is likely to happen before Diwali, which falls in November.
As per a report by The Economic Times, a person familiar with the plans had claimed that the service will be rolled out initially in the metro cities and nearly 80 tier 1 and tier 2 markets. The availability of the service will depend on the number of registrations received post-August 15.
The report also states that currently, the users will spend around Rs 700 to Rs 100 for broadband internet services providing 100Mbps browsing speeds. For television services, it will be around Rs 250 to Rs 300 per user. With the rollout of the Jio GigaFiber internet service providing bundled packages, the price will be around 50% cheaper.
The report further adds that the home broadband service will be priced much lower than its 4G mobile data service. It is also expected that Jio GigaFiber service will arrive with bundled data and television service to lure customers and increase its market share rapidly.
The report further states that the internet-based TV service of Reliance Jio will deploy IP multicasting technology so that the users do not use up their own data for watching TV. This technology will allow a single stream of TV services to be made available to multiple users.