Reliance Jio recently announced that it is going to introduce FTTH broadband service in India. The company has plans to roll out the service initially to 1,100 cities across the country with more cities to follow soon after. At the 41st AGM held in July, the company announced that Jio GigaFiber broadband service which will offer browsing speed of 1Gbps will be rolled out from August 15. However, it did not reveal anything about the tariff plans.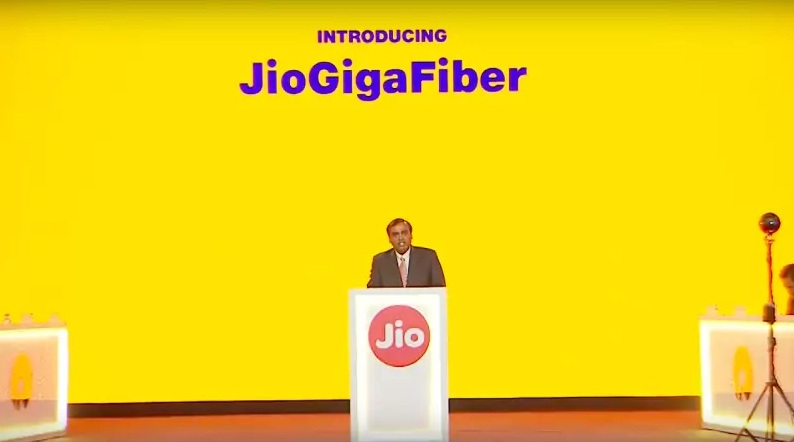 An earlier report had hinted that Jio GigaFiber broadband plans will start from Rs 500 to Rs 700. It also claimed that the company may offer free service to the subscribers for a period of 3 to 6 months. But, it remains to be seen whether this report turns out to be true or not.
Now, a site by the name of Trak has come up with the Jio GigaFiber plans of various denominations offering various benefits to the users. As per the report, the company is likely to introduce five tariff plans starting from Rs 500 going all the way up to Rs 1,500.
Starting off with the first plan of Rs 500, the company is said to offer 300GB of data with a validity of 30 days. Initially, it will offer speeds up to 50Mbps which will get reduced once the monthly quota is exhausted.
The second plan of Rs 750 is expected to offer 450GB of data at 50Mbps speeds with a validity period of 30 days. After the quota is exhausted, the browsing speed will get reduced.
The third plan of Rs 999 will offer 600GB of data at 100Mbps speeds and a validity period of 30 days. On reaching the usage limit, the speed will be reduced to a minimum threshold to be determined by the company.
Coming to the fourth GigaFiber plan of Rs 1,299, it will offer 750GB of data for a period of 30 days at 100Mbps speeds. Just like the other plans, the speed will get reduced once the quota is finished.
Finally, talking about the Rs 1,500 plan, it will offer 900GB of data at 150Mbps browsing speeds and a validity period of 30 days.
It should be noted that these plans are yet to be announced by Reliance Jio so the report should be taken with a pinch of salt. The plans are likely to be revealed by the company on August 15.