Apple looks all set to launch new iPhone models next month. If everything goes to plan then the company is expected to announce three new models next month which include an iPhone X successor with a 5.8-inch OLED display, a larger variant with 6.5-inch OLED display and a budget 6.1-inch LCD model. A recent investor note by reputed security analyst Ming-Chi Kuo suggests that the budget 6.1-inch LCD model may be delayed and arrive a little later. He also suggests that the three iPhone 2018 models may not come with Apple Pencil support.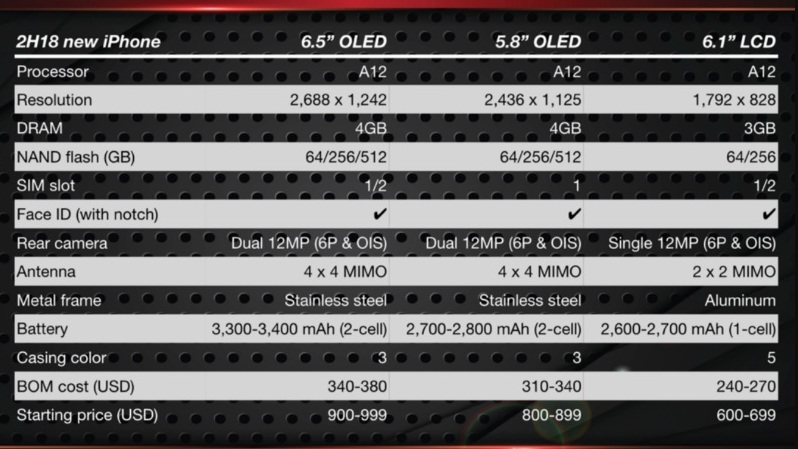 Ming-Chi Kuo, TF International Securities analyst stated in a note, first seen by 9To5Mac that all the three iPhone 2018 models will be powered by an Apple A12 SoC. The 5.8-inch and 6.5-inch OLED variants will arrive with 4GB RAM and 64GB/256GB/512GB of inbuilt storage variants, while the budget 6.1-inch LCD variant will arrive with 3GB RAM and 64/GB/256GB of inbuilt storage space. Also, as per an earlier report, the 6.5-inch OLED model and the 6.1-inch LCD model are expected to arrive in both single and dual-SIM variants depending on the market where they are sold.
Additionally, the two OLED models are also expected to sport dual cameras on the rear panel while the budget LCD model will feature a single camera on the rear panel. Furthermore, the frames on the OLED models will be of stainless steel while the LCD model will comprise an Aluminum frame. The 5.8-inch OLED iPhone is expected to arrive with a battery capacity between 2,700mAh and 2,800mAh. The 6.5-inch OLED model, on the other hand, will arrive with a larger battery capacity between 3,300mAH and 3,400mAh. Finally, the LCD model will boast a battery capacity between 2,600mAh and 2,700mAh.
Coming to the price of these three models, Ming-Chi Kuo had earlier stated the expected prices of these devices. The new report just reaffirms them again. As per the report, the LCD model is expected to cost between $600 and $699. The 5.8-inch iPhone X successor is likely to cost between $800 and $899 while the larger iPhone X Plus model will cost around $900 and $999.